Dubai dining: There's more to Korean food than kimchi
"It's less greasy than Chinese, less spicy than Thai and lighter than Indian," says a renowned chef
"It's less greasy than Chinese, less spicy than Thai and lighter than Indian," says Jamie Dobbin, head chef of One Canada Square restaurant and Bar in London. Which cuisine is he talking about? Korean of course!
Korean food is growing in popularity all over the world and now it's arrived in the UAE.
It seems kimchi is cool. But where would you find it and what would you eat? Do you know your Bibimbap from your Bulgagi? Surf the Korean food cuisine wave that seems to spreading all over the world.
The Korea Agro-Fisheries Trade Corporation has brought Korean food, popularly known as KFood, to the Middle East. Their campaign to promote Korean food has travelled from Korea to Abu Dhabi, Tehran and Yangon and it's now in Dubai.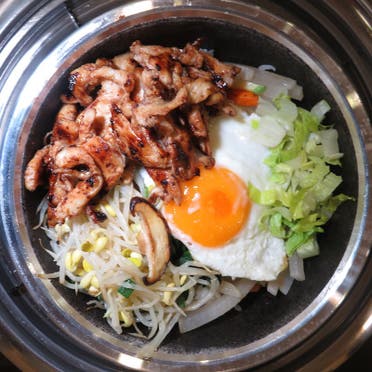 I was invited along with a group of food bloggers to find out what Korean food was all about. Expect a little drama, some tableside cooking, salty, spicy, fresh flavors and bowls of wholesome, satisfying goodness.
We were instructed via an interpreter by the hugely experienced Korean Grande Dame of cuisine in Dubai - Mrs An. She taught us how to cook Korean. Our first dish, Bibimbap rice, was prepared using a variety of fresh vegetables such as white radish, courgettes, carrots, pumpkin, shitake mushrooms and either chicken or beef. Bibim means mixed and bap means rice, hence bibimbap – mixed rice.
Everything is prepared separately then compiled into the final bibimbap dish which is eventually topped with a fried egg. The whole dish is kept warm in a dolsot – a special, granite stone lined serving bowl that keeps the dish warm till it's ready to serve.
The dolsot bowl is first coated with sesame oil and then heated. The point is to encourage the rice to keep cooking and start to crackle a bit even after it's been brought to the table. This reminded me of the prized crispy rice at the bottom of Iranian pots too.
We topped our bibimbap with the classic Korean Gochujang spicy sauce. Gochujang is a Korean staple and best thought of as the equivalent of Korean miso paste. It's made with fiery red chillies, but also has contains glutinous rice, fermented soybeans, salt and a little sugar. This is the ingredient I'd seek out if you're experimenting, use it as you would to spice up chicken, beef or even tofu.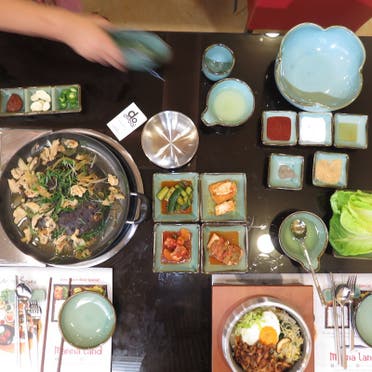 Your bibimbap is now ready! Dive in with a fork, spoon or stainless steel (as opposed to wooden or plastic chopsticks if you're being authentic) for a completely tasty, healthy, meal in a bowl!
We went on to make a Bulgagi which is traditionally made from beef, but I used chicken. I was fascinated with the marinade ingredients of onion and pear juice, no lemon, yoghurt or oil that would form the basis of many Middle Eastern or Indian meat marinades here!
The other new aspect for me was the frying pan we used to make braise our meat. It had a raised central area upon which we fried the meat, then a shallow, lower area that collected the meat and held the broth in which it which it then simmered, stopping it from burning. Once ready the meat is stuffed into fresh lettuce leaves, wrapped up and eaten. The bulgogi dish is popular with children as an after school snack in Korean households. It's healthy too as there are no rice or carbs involved and no deep frying either.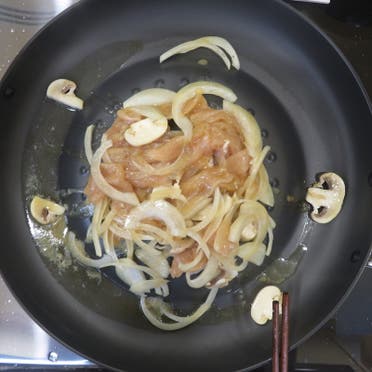 I can see the potential for a chain of restaurants that have tableside cooking and fresh ingredients prepared at the table. It's nothing like a Mongolian barbecue, neither is it like a hot pot preparation that's common in Chinese cooking. It's a social way of eating, that's fresh, healthy and clean. Korean really is cool. Try it yourself and see if you agree, or at least buy some Gochujang sauce and see how it gives your cooking a bit of zing!
There are a number of Korean grocery stores in Dubai where you can buy your ingredients, such as 1004 Mart. Restaurants in Dubai include Namu in the W hotel in Al Habtoor City at the top end and the newly opened and very authentic Manna Land in International City. Happy Eating!

Save