How liquid 'white gold' is helping Kenyan women fight the patriarchy
In a bustling inner-city street in downtown Nairobi, liters of white gold are consumed every day by elderly Somali men
In a bustling inner-city street in downtown Nairobi, liters of white gold are consumed every day by elderly Somali men helping provide economic empowerment to rural women hundreds of kilometers away.
To enter the Al-Yusra restaurant, patrons must pass a security check and climb a narrow, uneven stairwell. But once on the second floor, the dark chamber gives way to a bright, cacophonous feast hall, where hundreds of diners congregate at any one time.
Mohamed Osman, 21, is the wait staff team leader at the Somali restaurant, where he has been working for three years.
Osman was born in Kenya of Somali extraction, one of an estimated 2.4 million, many of whom wound up in Kenya as part of the Somali diaspora that bled out of the country during years of civil war.
He says countless glasses of camel milk and cups of camel tea and coffee are poured every day at the restaurant, testament to the vital place camel milk – widely referred to as "white gold" thanks to its life-giving, health and economic potency – has in many ethno-religious groups in Sub-Saharan Africa.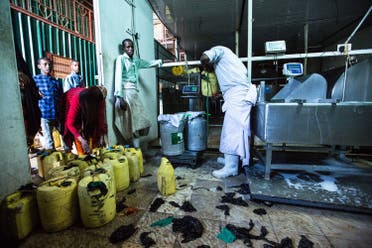 "The Somali community believes camel milk is a medicine. Mostly the old men of our community believe that it can cure some diseases. Even old men in our community, they have never had cow's milk – they believe camel's milk is very pure.
"Us Muslims, our religion originates from Arabia, and even the Prophet (Mohammed) used to breed camels."
Protein-rich camel milk, with its salty-sweet flavor and thick consistency, has been the lifeblood of the Bedouin and nomadic diets for centuries.
To the east of Nairobi, in a predominantly Muslim quarter called Eastleigh, the streets are awash with the stuff, with milk ferried in from around the country to early morning markets and sold by hijab-clad women. Camel milk and yoghurt can be found on Nairobi supermarket shelves and even Al Yusra sells milk by the tankful underneath the restaurant, at 160 Kenyan shillings (USD$1.57) a liter.
But demand for camel milk in the traditionally cow milk-consuming country, typically produced in the poorest, most arid parts of the country, is growing.
A 2015 study by Dutch non-profit SNV outlined factors like the density of camel milk, which means less is required to make good tea, health properties and the long-shelf life as reasons for why demand for camel milk is rivalling that of cow's milk in many of Kenya's urban centers, including Nairobi.
SNV Kenya country director Harm Duiker says camel milk sales are on the rise, especially in communities that traditionally did not drink it.
"With the increase in awareness of health benefits of consuming camel milk, the demand for the product has been rising – especially among the high-end consumers."
There are an estimated 2.9 million camels in the country, producing about 1.1 billion liters annually – with a price tag of $530 million. The SNV study also suggested that while demand for camel milk in the capital is currently worth almost $50 million a year, the potential demand is double that.
Export markets have not yet been properly tapped according to Duiker, with a small untracked amount of fermented milk going to the Somali diaspora. But the demand from places like the Middle East mean export potential could be big, with many producers already fielding frequent inquiries.
All this means more economic opportunity for dozens of women in a small town in Kenya's drought-stricken central region, called Isiolo.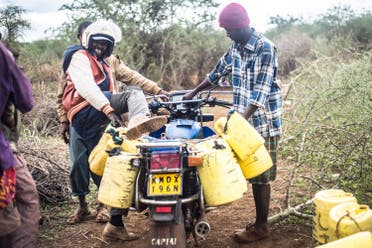 With climactic changes, cattle are becoming underfed and unproductive. This has given rise to the growth of herds of desert-hardened, drought-resistant camels that can produce 20 liters of milk a day.
But one cooperative society in Isiolo is also addressing another societal problem: providing employment to the traditionally economically-deprived women of the region.
The Anolei Cooperative Society has more than 100 members – though only 35 of those are active – and it is almost exclusively a female pursuit. There are a handful of male milk producers, but only women are allowed on the cooperative's board.
For the Borana people who comprises most of Isiolo's camel-herders, the camel itself is the domain of the man but the milk is the property of the woman. Yet prior to the formation of the cooperative, women who are traditionally not supposed to talk before men had very little say in camel milk business.
Anolei's chair Safia Kulow says a big proportion of the women don't have other employment options, and many have arrived in the cooperative through widowhood.
"Some of the women are single mothers. Some of them were left when their husbands died, who left them with their camels. They bring the milk here and then sell it and use the money to raise the children. For them, it's a source of income."
She says the cooperative began life as a "self-help group'" in 1997 with just five people but things really took off when it was registered as a cooperative in 2010 and got access to a number of different government support sources, including NGO funding.
One such source is Isiolo sub-county cooperative officer John Kamau. He says prior to government involvement, the group had no technical advisors and were hemorrhaging money on unnecessary costs like electricity.
"Before they had 63 freezers in this room; now we told them this is not how it's going to work. Electricity was coming to 175,000 Kenyan shillings per month. If you just put one can of milk in the freezer it's very costly. We told them go to the first freezer and fill it up.
"Nowadays it's costing only 45,000 Kenyan shillings per month. That's a big difference a month, a year."
Kulow says in the early days there were no freezers and the women were milking the camels at night then selling the produce in the morning.
"There wasn't a big market for camel milk back then."
But over the years, she says, the demand for camel milk grew with its allure of health benefits, while those with lactose-intolerance were recommended it as a substitute.
The list of ailments the 49-year-old grandmother says camel milk can cure is long and unverified, but include high blood pressure, diabetes and typhoid.
But as well as making a difference in the lives of consumers, it is the women who milk the camels who are really being impacted. Most members, who get paid 79 cents per liter of milk produced, bring in about 50 liters from their arid farms on the outskirts of town, where rivers have run dry, to the cooperative processing unit in the central town, where the milk is weighed, pooled and shipped off to Nairobi. This is significant money in a country where the annual gross national income per capita is $1340.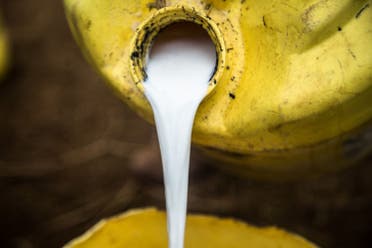 "They're able to sell their milk and now they have empowerment."
Kamau says in the year to date the group has earned $245,000. They are some of the approximately 400 women in Isiolo alone making a living from camel milk, where the town is making an estimated $7 million a year from the trade.
Operating in a cooperative affords the women bargaining power in the country where set prices are a rarity.
"These women could be exploited when they are individuals because you cannot know the market prices alone, but when you are many you can say from 'We have to send a message to Nairobi that we raise our prices next week'."
But the cooperative also has other benefits. Trainings on issues like HIV and female genital mutilation (FGM) – a common practice in the pastoralist community – are also organized for the women.
Kamau says as many as 10 per cent of the collective have HIV-positive statuses. Most women are married to men with many wives who often take their livestock away to graze for months at a time.
"During sex they don't protect themselves. If he's a man and he has left the house for three months to look for grazing and he comes back infected …and he has left behind four wives, when he comes he will spread the infection."
There are also problems of high birth rates among very young mothers – with many girls, who lack sexual education, getting married as young as 12. This can give rise to a host of medical and social issues for young women ill-equipped for motherhood.
Kamau says aside from the training, the members of the society help talk to each other about some of these problems.
With the continued rise in milk demand, Duiker hopes to see a continuation in the developments in both milk production and Isiolo society.
"Women have broken away from some of the barriers arising from gender norms. These are ownership of productive resources and input in productive decisions – [often] with full support by their spouses."
Save

Save