Shawarma, the regularly sighted sandwich wrap available on streets across the Arab world, has found its way almost everywhere in India. The taste of Arabia is now the rage in many Indian cities, particularly in south India.
The snack is drawing youngsters and adults alike in droves to joints selling the ubiquitous juicy rolls. Arabian restaurants have sprung up in many places in cities like Kochi, Calicut, Hyderabad, Chennai, Bangalore, Mangalore and small towns and here shawarma is the showstopper.
Indians make for the largest expatriate community in the GCC countries – numbering around 7 million – and for them shawarma is a staple bite. Cashing in on the passion for tucking into shawarma rolls, hoteliers and entrepreneurs in India were quick to set up kiosks equipped with rotisserie selling shawarmas mainly to the Gulf returnees or those on holidays from GCC.
It has become such a hit that even those who have never been to the GCC find it exciting. The result is mushrooming of shawarma joints in virtually every major town in South India. The trendsetter states are Kerala and Telangana/AP from where majority of Indian expats stay in GCC.
Hyderabad, one of India's foodie hubs, is home to hundreds of shawarma outlets – either separately or part of Arabic/ Mediterranean restaurants. Be it the Old City, Nampally, Mallepally, Tolichowki or Banjara Hills or any other locality known for culinary indulgence have Arabic outlets catering to varied taste.
Says Suhail Khan who works as a manager in Muscat says shawarmas at Four Seasons, Spice 6. All Seasons, are supposed to be good. According to him, joints such as Arabian Food, Nimrah Restaurants, Feel in Saudi, Kababish Food Court, Gulf Cafeteria, Grill 9, Al Hashmi House are among others that serve delectable shawarmas.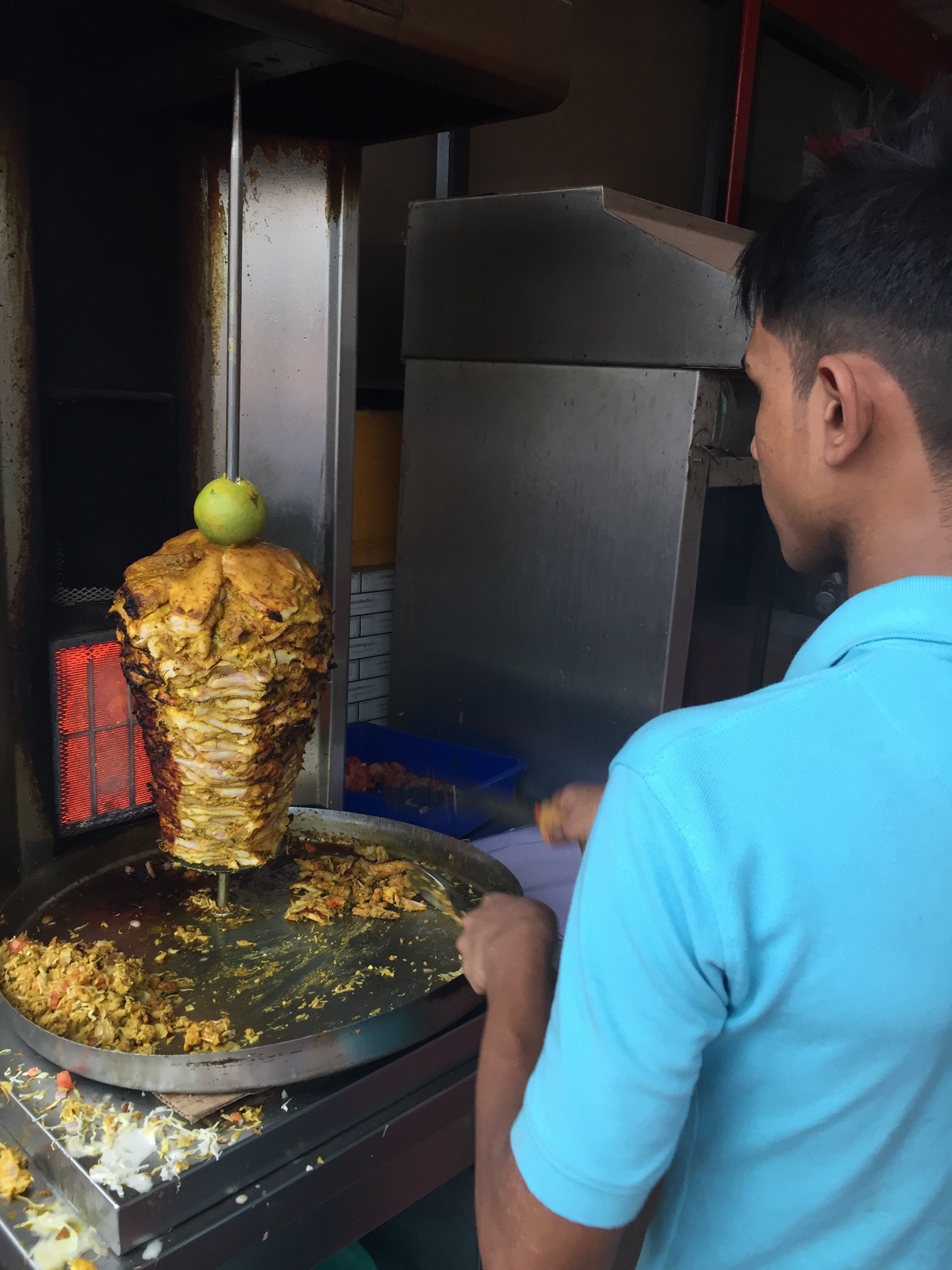 Culinary treasures
South Indian city of Bangalore is also a culinary destination waiting to be explored where shawarma joints are filled with youngsters who visit regularly to lap up the roll.
Says Nagender Kumar, who worked in Dammam and returned to settle down in India: "I am a great fan of Arabic food as most of the dishes in this cuisine use olive oil and they are baked/grilled and less fried," he says.
Kumar says he would prefer to have shawarma at one of the many Arabic eateries on Mosque Road and its surroundings in Frazer Town, Bangalore. "They are very authentic though I am yet to find any outlet that matches the shawarma that we used to get in Dammam," says Kumar.
Shawarma joints also thrive in Mangalore, a coastal city in Karnataka. Pop Tates in Balmatta is a famous shawarama selling outlet, which has a large clientele.
Says Dr Nirmal, orthopedic specialist at KS Hegde Hospital in the city, who did his schooling in Abu Dhabi. "The very sight of roasted meat shaved off the skewer entices me. It is no wonder then that feasting on shawarmas is my regular routine. The pita bread needs an improvement," he says.
In Kochi, the Arabian delicacy seems to have captured the imagination of the city's youth. "White House in Kaloor, Zataar Restaurant and Ali Baba and 41 dishes in Panampilly, Street Menu on MG Road are some of the hot spots for shawarma experiences," Imran Shabandri, a businessman in Kochi, said.
In Chennai too, shawarma has grown in popularity. For Karthik, a student in the city whose parents live in Bahrain, the meat grilled on a rotisserie over long hours has a distinct taste. "I prefer to gorge on a shawarma as dinner. It is light on the tummy and healthy," he says.
Dozens of eateries in different parts of Chennai serve the delicacy and some popular ones include al-Reef at different locations, al-Kebabish in Annanagar East, Zaitoon at Adyar and Samco at Teynampet.