Piety reigns supreme in the month of Ramadan. It is also a month where certain landmark localities in major cities in India transform into culinary delights.
As the sound of the dusk prayers rent the evening air, signaling the end of fasting, the food localities at these places present a spectacle of a food festival. Delicious aromas waft through the air. These are not the usual places for Iftar snacks but places where people, Muslims and non-Muslims alike, come to feast on the delights to choose from.
Come Ramadan and a profusion of food flavors erupt at many places in India. Old Dehi's Jama Masjid environs, Mumbai's Mohammed Ali-Bhindi Bazaar Area, Hyderabad's Old City Area, Kolkata's Zakaria Street, Chennai's Triplicane, Bangalore's MM Road-Mosque Road are bursting with flavors.
Hyderabad's Old City - Culinary heaven
During Ramadan, Hyderabad's old City Area turns itself in to a slice of culinary heaven. Ramadan food in and around the Charminar Area is a celebration of colors, ingredients, textures and flavors.
Though the flavorful Hyderabadi biryani rules but it is the Haleem (meat porridge) the flavor of the season. Moyeed Ruhan, a resident of Hyderabad, vouches for the Haleem served at Pista House, an iconic landmark in the city.
Shadab, Shah Gouse, Nayaab, Madina House, all are packed to the brim for a taste of Haleem. The Haleem smeared in pure ghee and topped up by a juliennes of ginger, liberal sprinkle of birista (deep-fried onions) and coriander and a dash of lime is heavenly.
Another original Hyderabadi item is the soft Dahi Badey (the Hyderabadi version of Dahi Vadey, a delicacy soaked in spiced yoghurt. As you amble down the area the sight of stalls selling Paya (lamb trotters), assortment of Kebabs, Tala Hua Batair, Pathar Ka Murgh, Seviyah, Faluda, Firni and Kebabs entice you.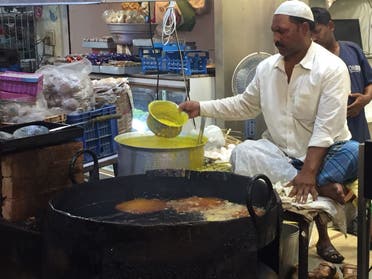 Bangalore's MM Mosque Road
Feast for the senses Russel Street in Shivajinagar was one of the oldest Iftar points of the city but in recent years the focus has shifted to MM Road and Mosque Road in Frazer Town, Bangalore.
Here popular restaurants have put up tents outside their outlets during Ramadan. Savoury Restaurant, Karama Restaurant and Empire are quite popular.
These restaurants also rustle up Arabic food, besides Indian and Chinese, considering the Arab student population in the area. On this T-stretch are stalls selling goat brain puffs, skewered camel, grilled quail and veal kebabs.
Be it Paradise ki Haleem, Chichaba's Taj and Richies Rahhams for Bangalore-style Dakhani Mutton Biryani, Charminar Kabab Paradise for Nizam rolls and Mutton Seekh roll this area is a foodie's delight.
Dripping hot, Molten Khova in crispy, oven-baked pie, the Khova Naan, Mutton Samosa, Brain Puffs, etc. will make any visit to the iconic Albert Bakery dating back to 1902 in this area a memorable experience.
Never miss out the Shaiya Biryani (thin rice flour vermicelli with chicken pieces) at Alibaba, a Middle-Eastern restaurant tucked away on the first floor of a corner building, where the focus is on Bhatkal food along with Mediterranean cuisine.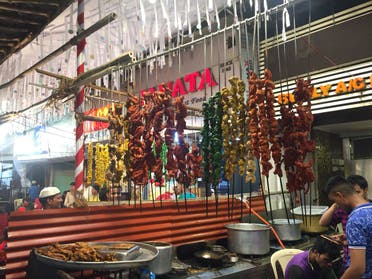 Old Delhi's culinary delight
The sizzle of kebabs skewered onto slender sword-like rods and simmered on coal grills beckon you while the aromatic aroma emanating from huge cauldrons filled with biryani entices you.
You have come to the right place in Delhi – The bustling lanes of Old Delhi is brimming with flavors. Try out the Sutli Kebabs at Lalu's and Qureshi's, Haji Mohammad Hussain's golden fried chicken and kheema golis (minced meat rounds served with onions), Aslam Chicken Corner's chicken tikka.
Karim's hotel's legendary Mutton Stew, Nihari, Chicken Burrah and Lamb Paya, eaten with fluffy Khamiri or Tandoor Rotis, have no competition. For the food lovers, a Ramadan Walk in Old Delhi for giving the people an insight into the traditions of Ramadan and the unique cuisine offered in this month is held.
Other places to explore here include Anwar Food Corner (known for Malai Tikka), Anmol (butter chicken), al-Jawahar Restaurant (for Shami Kababs). Highly recommended is the Qimami Seviyan, which is a uniquely fragrant festive delicacy. One can end up the culinary voyage with a cup of steaming hot tea at Haji ji's teashop.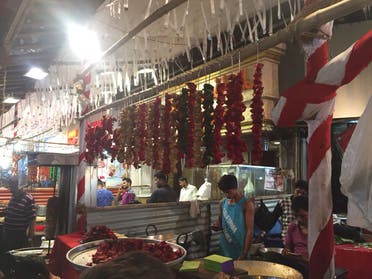 Mumbai's Mohammed Ali Road - A mélange of flavors
During the fasting month the stretch of Mohammed Ali Road and the turnaround at the Menara Masjid in Mumbai come alive with the smells and sounds of flavors.
Deliciously sinful delicacies adorn every outlet or makeshift stalls. Wisps of smoke emanate from barbeques/tandoors in the air and disappear in the medley of sound and color.
One can begin at Bhindi Bazar's Noor Mohammadi Hotel (Nihari, Shami Kebab and Sanju Baba Chicken), then follow Bismilla (offal dishes), Janta Fast Food (quail tandoori), Noorani Milk Centre (Malpua) and Suleman Usman Mithaiwala (sweets and phirni), and then turn left toward Menara Masjid for a mélange of flavors.
Besides the tandoor items and biryanis, one can feast on Mumbai's famous Baida Paranthas, Vada Pav, Bheja (brain) or Kaleja (liver) Fry, and what not. Hop into Mashaallah Cuisine for succulent kebabs or Bademiya Kebab Centre for relishing chicken soup and yummy kebabs.
One can top up the dinner with the luscious Falooda. Also doing brisk business are golawalas
(ice-candy with all several of fruity flavors from raw mango to Kala Khatta and Halwais.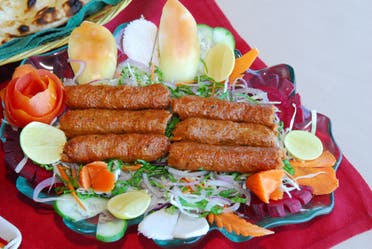 Kolkata's Chitpur - Burst of flavors
Home to Nakhoda masjid, city's largest masjid, Chitpur in Kolkata is a defining foodie landmark. The oldest Muslim settlement in the city, whose families trace their progeny to Awadh, Chitpur's meandering alleyweys are a feast for the senses.
The foodie heart is the Zakaria Street and the environs in Chitpur. Be it the delectable biryani at
Aminia's, haleem at Aminia and Sufia, mutton samosas at Haji Alauddin; Sheermals, Sutli Kebabs, Khaaja, Jalebis, Bakarkhanis and Lacchas at various outlets, you never get bored of
eating.
Tuck into an assortment of Kebabs - Pyaari Kebab, Boti Kebab, Malai Kebab, Hariyali Kebab, Reshmi Kebab – and feel heavenly. Cool off with a bottle of the delightful Rooh Afza sherbet available at many points.
Lachha or Vermicelli are sold in large mounds all over the the Nakhod Masjid area and comes in fried and non-fried varieties. Chicken Changreji and Mahi Akbari (Deep Fried Fish) are items to try out.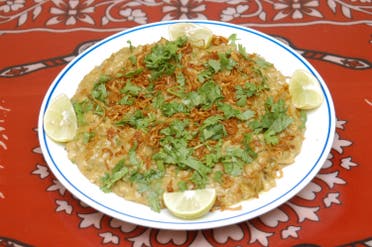 Chennai's Triplicane - Flavors of tradition
At Chennai's Triplicane Area the star food is Nonbu Kanji, the rice gruel which is a rich blend of a variety of aromatic spices and assorted vegetables.
It is great sight to see huge cauldron and young men stirring the boiling broth inside with a six-foot long rotund bamboo stick.
Outside Wallajah mosque in Triplicane, 'Kanji', dates, biscuits and other Iftar specialties are in plentiful. The area has stalls selling Chettinad Biryani, Chicken Puffs, Chilli Bajji, Paruppu Vada, and Onion Vada, Gajra, Keema Samosas, Padhir Peni, etc.