PHOTOS: Open-air museum of restored traditional mansions wow visitors in India
Phased wiping of traditional localities including its homes and vernacular architecture in cities and towns almost everywhere is going on at large scale. Once the lifeline of community bonding, these charming, traditional homes have now become victims of urbanization.
One by one, the centuries-old magnificent houses are razed to the ground to accommodate concrete modern homes or they crumble on their own because of lack of maintenance. With this, invaluable pieces of art and a leisurely lifestyle redolent of the past are also being destroyed.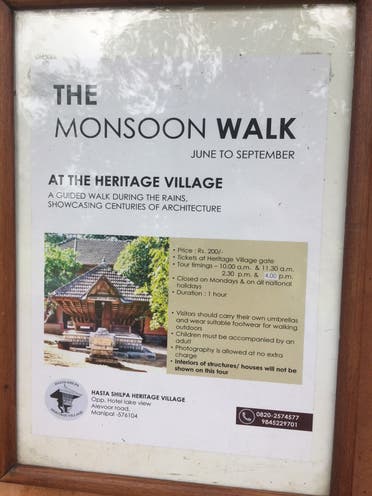 Such a plight is greatly visible in a large belt that spans one part of Karnataka in south India known for unique streets and exquisite homes.
Today, with apartment blocks, shops and individual concrete houses, the neighbourhood, which represented the values of community living and shared space, is losing its traditional ambience.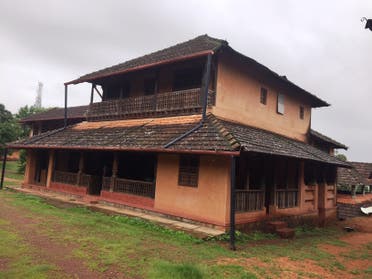 But you can still experience these community living and admire the mansions by visiting a unique open-air museum called the Hasta Shilpa Heritage Museum in Manipal, an educational hub of Karnataka.
Here, in all 28 houses have been recreated at the same scale from demolished, dismembered, abandoned, and leftover pieces, with great care and amazing tenderness.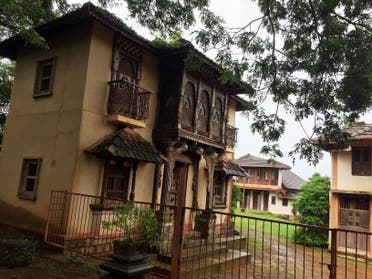 Locating heritage houses
It was the late Vijayanath Shenoy who footslogged day and night through the hamlets and towns of coastal and Malnad Karnataka and engaged himself in locating the heritage houses on the verge of being dismantled or destroyed and buy them.
He then reassembled them and the result is the stunning Hasta Shipla Heritage Village where visitors flock to see traditional homes.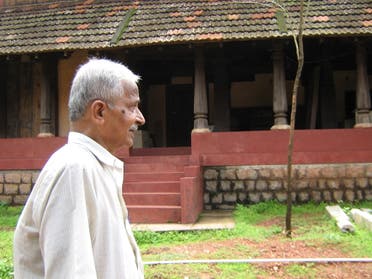 He soon became a champion for the conservation of built-heritage when he witnessed the thoughtless demolishing of the graceful, centuries-old homes in his region.
When possible, he restored these to their former glory in their original locales; otherwise he translocated them, piece by piece, to be reconstructed in Manipal.
For Shenoy, these homes represented the conceptualization of our ethos, the imagination of our ancestors, the ingenious indigenous technology, the skill of native craftsmen. And this had to be saved.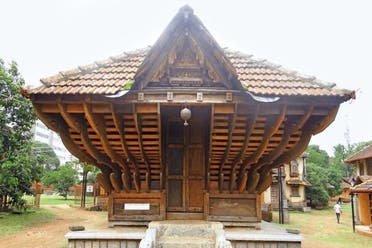 The Heritage Village currently houses 26 structures (with two more under completion), both heritage and functional. Museums and ancient wonders such as Tanjore Art Gallery, Raja Ravi Varma Lithography Press Museum, Ganjifa Art Gallery, contemporary art and crafts museum have been brought to life here.
These are restored houses or lifestyle museums that include Bhatkal Navayat Muslim House, Kunjur Chowkimane, Vaderhobli House, Mangalore Christian House, 160-year-old Malnad House from Sringeri and Byndoor-Nellyadi House among others.
The 190-year old Kunjur Chowkimane belonged to family of Shivalli Brahmin priests-turned agriculturists, who over the time became landlords. It is amazing to note that this house has optical illusion windows, and windows that can modulate and control the inflow of both light and air with sliding shutters.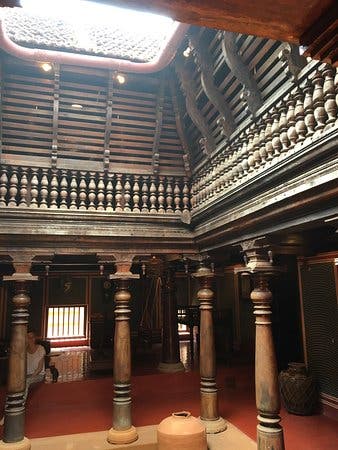 Unique feature
The house is equipped with an auto-burglar lock, unique feature found only in southern part of coastal Karnataka (South Kanara belt). The ceiling tiles and Basel Mission roofing tiles placed with air gap space reduces the heat inside the building.
Then there is Kamal Mahal, a more than 500-year-old building painstakingly restored or recreated to the point of orientation from Kukanoor village in Koppal district comprises private chamber of Vijayanagar Empire Chief of Army (Governor).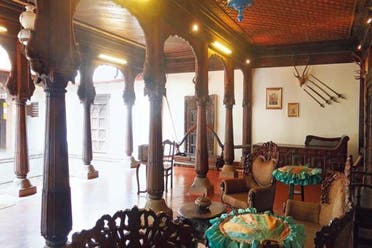 There is also the Mudhol Palace Durbar Hall, the 300-year-old palace that belonged to Ghorpade royal family. The entire ceiling of the Durbar hall is a single wooden structure and flaunts German lamps, Belgium glass kerosene lamps and ivory decoration on the ceiling border.
The Deccani Nawab Mahal has an interesting story behind 225-year-old palace's restoration that belonged to one of the wealthy Barid Shahi nawabs and was located 60 km away from Humnabad. The resplendent palace has been reassembled at Manipal with all its delicate jharokas and chandeliers.
It tells us the story of the craftsmanship of the past artisans. Although individual donors have contributed to the Heritage Village it is international agencies that initially supported it financially.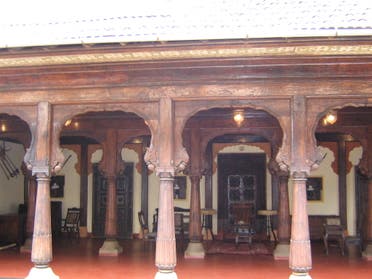 Museum guided tours
The open air museum offers several new guided tours for visitors to better appreciate the structures at the Heritage Village, their stories and the landscape they are located in.
Since rainy season is on, a one-hour Monsoon Walk is conducted from June to September four times a day beginning at 10am, 11.30, 2.30 pm and 4pm. After the rainy season, Southern Stroll and Eastern Jaunt tours will resume - each of 90mins duration.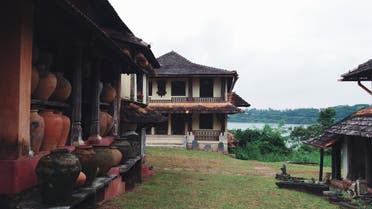 As you amble along feasting on the various restored buildings belonging to bygone eras and reflecting the architecture of those times you cannot help but adore the fine craftsmanship of those times.
One can also admire the furniture, utensils, and other artefacts placed inside the houses.