Saudi Arabia begins initial phase of constructions to build The Red Sea Project
The Red Sea Development Company (TRSDC) announced it has commenced operations of the initial phase to develop The Red Sea Project, one of the world's most ambitious tourism developments.
Operations on the project's "Base Camp", which is situated on the coastal area near the southern end of the 28,000 square kilometer destination, is the first of numerous works scheduled to be carried out this year to provide the project's essential infrastructure. Works will include constructing temporary roads, bridge, jetties, utilities, workforce accommodation, and a "Management Village" which will support the development of the luxury tourism destination.
The camp currently houses 60 people who will live and work on site, including project and construction managers, health safety and environmental professionals, government affairs specialists and others.
"This is an important milestone for The Red Sea Project and takes us another step closer to our goal of creating a truly exquisite tourism destination on the beautiful Red Sea coast," said John Pagano, CEO of TRSDC.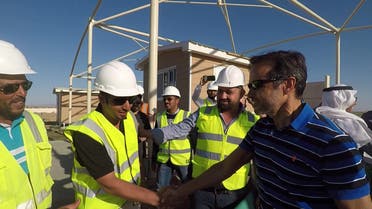 "The remote nature of the site, which is an important part of its appeal as a destination, creates logistical challenges for the support of large-scale development. The Base Camp is an essential first step in preparing the destination for construction," he added.
According to the company, the initial phase of construction will seek to employ the latest technologies in high-quality prefabricated modular construction to minimize the environmental and social impact on site. Buildings and structures will be manufactured either within Saudi Arabia or overseas and shipped to the site to be placed at their final location as large pre-fabricated elements, thereby reducing demand for on-site labor and temporary utilities.
"As with every aspect of the project, we are working hard to ensure that our operations have minimal impact on the surrounding ecosystems while providing a safe and comfortable environment for our people to work in," said Pagano. "As work progresses on the destination, we will be carefully monitoring our environmental impact to ensure that we achieve our objective of setting a new global standard in sustainable development."