Twitter is a menace to society, a road to damnation, and is widely used by "twats" – or so you would think listening to the barrage of criticism leveled against the site by high-profile public figures.
Politicians, celebrities and religious leaders are increasingly lashing out against the social-media service, with their accusations ranging from claims Twitter can spark social unrest, to the notion it could somehow send you to hell.
Yet there is a sweet irony to many of these complaints. For some of Twitter's most outspoken critics are also its most avid users.
Turkey's prime minister Recep Tayyip Erdoğan, who is currently under intense pressure amid fierce protests in his country, on Sunday became the latest politician to lash out at Twitter.
"There is now a menace which is called Twitter," Erdoğan said. "The best examples of lies can be found there. To me, social media is the worst menace to society."
Yet this "menace" can also be extremely useful one, as Erdoğan himself has found.
The politician's Facebook page has two million likes, while a Twitter account said to belong to him – although not one that has been officially verified by the social media service – has 2.7 million followers.
Erdoğan is not the first politician or celebrity to treat social media as a fair-weather friend when it comes to winning votes, public opinion or publicity.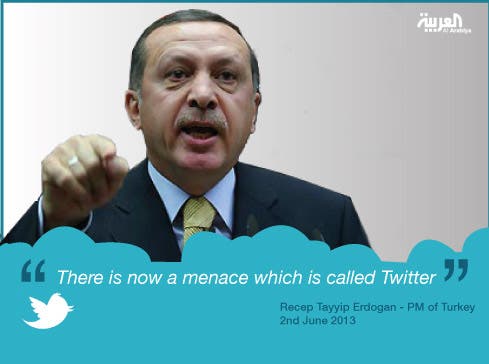 The British politician David Cameron famously slammed Twitter users in an interview he gave in 2009, the year before he became prime minister.
"The trouble with Twitter, the instantness of it – too many tweets might make a twat," he said, using bad language he later apologized for.
Yet Cameron himself risked becoming a "twat" when three years later he joined Twitter, writing regularly from his @David_Cameron account, which has currently has 330,000 followers.
While Cameron's stance on social media had appeared to change, he again took a U-turn after London was hit by violent riots in the summer of 2011. The Prime Minister was reportedly keen to impose restrictions on the internet during the unrest, even suggesting that sites like Facebook and Twitter should be silenced.
For Cameron, Twitter had transformed from a home for "twats", to a great communication tool, to an instrument of organizing social unrest – all in the space of two years.
Such cases are indicative of the relationship many politicians have with Twitter and other social media services, commentators said.
The Dubai-based media expert and author Alexander McNabb said Erdoğan's outburst on Twitter indicated the "love-hate" affair some high-profile figures have with Twitter.
"It was all very well when people were retweeting what he had for breakfast, but now it's a menace," McNabb quipped.
"You've got this love-hate situation… It's a potentially wonderful tool for politicians. But at the same time it can be an inconvenience".
Twitter, Facebook and other services democratized the media, giving everyone a voice – which some in power do not like, McNabb said.
"The hands holding the megaphones have changed," said McNabb. "[Social media] allows people to share information, whether it's embarrassing or political… Before you could only have that power if you could afford major media".
But high-profile politicians should not avoid such sites, said McNabb, who also works as a public relations consultant.
"Obviously the advice is to embrace it," he said. "If you're to take democracy seriously, you've got to listen to what people say."
Other commentators pointed out the some politicians use Twitter very effectively.
Mark Flanagan, head of digital at Portland Communications in London, pointed to the British Foreign Secretary William Hague.
"Whenever he goes on an overseas visit, he puts time aside to answer questions on Twitter. That's part of his diary and he takes it very seriously," said Flanagan. "There are politicians around the world who use it very well for engaging with the media."
Portland Communications last year published a study on the most connected Twitter users in the Middle East, in which Sultan al-Qassemi, columnist and commentator on Arab affairs, topped the list.
While Twitter can be a valid tool for politicians, not everyone in power gets it, Flanagan said.
"For every politician that thinks that Twitter is a fantastic opportunity, there will be another politician who thinks it's a menace," he said.
"The instinct of a lot of politicians is to broadcast and they like the fact that they can use social media to get the word out. What they like less is that social media is a two-way street, and they're opening up to engagement."
Politicians are not the only public figures to have publicly criticized Twitter – while also remaining avid 'tweeps' themselves.
The UK politician George Galloway in March launched a campaign to "impose sanctions" on Twitter unless it co-operates with UK authorities in the detection of crime. Yet Galloway is a prolific user of the site, writing regular updates to his more than 145,000 followers.
Celebrities Sylvestor Stallone, Ashton Kutcher and Megan Fox have also criticized Twitter. Saudi Arabia's Grand Mufti characterized Twitter as a "council of clowns", and a place for those who "unleash unjust, incorrect and wrong tweets." The head of Saudi Arabia's religious police Sheikh Abdul Latif Abdul Aziz al-Sheikh even said that a Saudi citizen who uses social media sites – specifically Twitter – "has lost this world and his afterlife".
For some, Twitter is the scourge of society. For others it is an effective communication tool for winning public opinion. And for a few, it's both.
Either way, it's not going away – as Flanagan points out. "You can't turn back the clock," he said. "You need to find ways to make [Twitter] work for you and turn it into an opportunity."