Companies based in the UAE are too quiet in their public relations (PR) efforts and should 'shout a lot louder' about their work, according to the regional head of a press-release distribution firm.
During the property boom the country was no stranger to the attentions of the global media, thanks to high-profile Dubai projects like the Burj Al Arab and The Palm. When the real estate market turned sour, so did some of the headlines.
But while the UAE might have made waves in the international press, local companies are generally shy in broadcasting their brands, said Lisa Ashworth, the regional president of PR Newswire.
"There are some fantastic businesses here that could do with shouting louder," she said. "What I can't understand is why they aren't shouting from the rooftops about how amazing they are. The big brand that everyone knows is Emirates, why aren't the rest of them shouting as loud? They're relatively shy about it, in telling the rest of the world how great they are."
Ashworth acknowledged the press attention given to UAE icons such as the Burj Khalifa and developments like The Palm – but said that only the most high-profile projects had prominence.
"That was a kind of showy-off ego, wasn't it?," she said. "The tallest building and The Palm are fantastic as far as generally putting a nice spin around this market, and getting tourists. But it's about depth of character. I think these really big engineering projects, really big airports and things like that have got a maturity, they've got a longevity, they've got a seriousness about their wow-ness. They're less tinsel."
A more outspoken press in some foreign markets may be scaring off UAE businesses from reaching out to global media, Ashworth added. "I think fear of the openness of the media around the world might be putting them off as well, because they won't necessarily get the spin on the story that they anticipate."
PR Newswire sends out about 1,000 press releases a week on behalf of its paying clients, including about 10 a day from the Middle East region. Owned by the UK-based United Business Media, it opened an office in Dubai in 2007 – its first in the Arab world.
Ashworth explained the challenges facing companies in the Middle East – and how PR Newswire hopes to bridge the communications gap:

Q&A with Lisa Ashworth, president of PR Newswire in Europe, the Middle East, Africa and India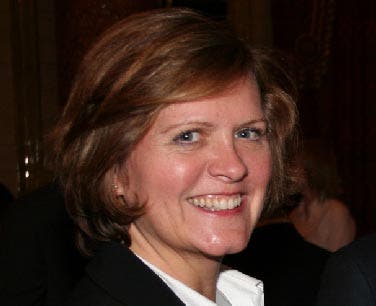 How do the PR efforts made by UAE companies compare globally?
In some of the other markets people are shouting very loud and they don't necessarily deserve to be shouting quite so loud. And I think that is going to be the key to our success here – when the market here gets a bigger ego.

Surely it serves your own business interests to say local companies are not communicating well enough?

I wouldn't say this in other countries. I do think that the brands here should talking more than they are talking. There is no doubt about it. If you look at equivalent brands, they're shouting far louder.

How much interest do global companies have in distributing their press releases in this region through PR Newswire?
It is absolutely selling like hotcakes, it really is. When you're selling a global suite of places, the Middle East is absolutely critical. Everybody is interested, if they want to do global communications.

You launched your Dubai office in 2007. What challenges do you face in this region?

The only area we have problems is turnover of staff: Keeping the team has been our biggest issue. We've had quite a bit of change which has been a shame. We invest in training people, and engage with them and bring them over to London and all of that, but then actually they don't stay long.

What is your average staff turnover time here in Dubai?
I think about a year. Either they get poached to go and earn more money, or they want to go home… We call ourselves the PR Newswire family, because people have been with us for years and years, and really stick with us because it's a very exciting business once you're in it. But here [staff retention] is the only problem we have in this market. I've heard this from lots of different companies I work with.

How is your business spread globally?

At the moment, probably 80 percent of our business comes from North America. It's very established; it's been around for 60 years next year. We're thinking that the future is definitely going to be India and China, as far as the big bulk of our business goes. We've invested in building very deep businesses.

How are your revenues and your numbers looking in the Middle East region?
They're good, but not as good as some of the other regions. For example, we opened our business in India about six months afterwards, and that's booming. But then it's a bigger market probably, the whole of India compared to Dubai, the UAE.

Do you have numbers on how your business is changing in the Middle East?

It was growing at one point in triple figures, but it is double-digit growth now. But then it's on a small base. It is probably our smallest region. It's about half a million pounds [of revenue forecast in 2013] coming out of this region. That doesn't obviously include any of the business that's coming into this region, because that would be booked [abroad].

What's your target for that half a million pounds of revenue?

Dubai is the head of everything for the whole of the Middle East… It should be a lot more that what we're doing at the moment. You've got Qatar, Saudi, Bahrain… Well I'd like to see 20 percent growth, year-on-year.

What do you have to do to achieve that?

I think by simply keeping our staff. If you don't have the people out there that are your ambassadors, promoting what you do, and you don't have the longevity of relationships… I'm going to go out on a limb here and say there's a lot of not-so quality staff here… you think you're getting somebody good and then you find out actually, when you drill down, they may be not as good. Or if they are very good, they get poached quickly.

Do you plan any acquisitions in this market to grow your business?

I'd always say always. We're a very acquisitive company, but it's got to be for the right reasons. As far as the content that feeds our global services, then yes I'm very interested. I have had quite a few in-depth conversations already with three or four different companies, over the last three or four years, in this region [about potential acquisitions].

How likely do you think it is that a deal will go ahead?
There isn't one that's live at the moment. But a year or so ago we bought the largest French database business. It's been a fantastic acquisition. So I'm gung-ho for another fantastic one.

BIOGRAPHY: Lisa Ashworth
Lisa Ashworth, Chief Executive Officer for PR Newswire across Europe, Middle East, Africa, Israel and India joined PR Newswire in July 2002. Ashworth is responsible for the strategic direction of the business, ensuring it meets forecast revenue, maintains a viable cost base and exceeds its profit targets. Since joining this division of the UBM group, Ashworth has completely re-engineered the operations taking it from a loss making business to one of profitability, managing a series of successful acquisitions.
In the three years to 2002, Ashworth re-modelled the global training business of Frost & Sullivan taking it from a $2m solely commodity based public training concern to a $12m dynamic in-company specialised development solutions provider.
During the 90s Ashworth worked for several companies in the Financial Times Group (Pearson Plc owned) managing pan global businesses, building and driving growth in international press monitoring and online information services.
In the 80s despite being a law graduate, Ashworth started her career in advertising and worked for many of London's top agencies. She progressed from graduate trainee right through to Account Director and personally handled some of the UK's top client brands during this period.
Source: prnewswire.com