The Muslim Brotherhood has been accused of gross distortions of the truth in its TV and social-media broadcasts, with some of its messages constituting what one commentator called "a big lie".
Both mainstream media and social channels like Facebook and Twitter became battlegrounds between opposing sides in the unrest that led up to the ouster of Egypt's Mohammad Mursi.
Critics point to the distortions of the truth made by Muslim Brotherhood-linked media, while accusations of bias have been leveled against Al Jazeera, just as others have attacked channels such as Al Arabiya and CNN for their coverage.
In one of the most brazen and alarming cases, the Facebook page of Egypt's Freedom and Justice Party (FJP) - the political arm of the Muslim Brotherhood - displayed images of children killed in Syria claiming they were victims of the recent unrest in Egypt.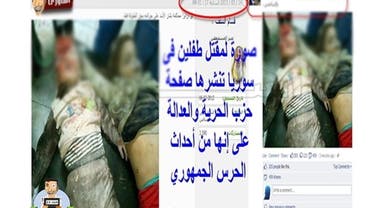 Gamal Zayda, managing editor of the Al Ahram newspaper in Egypt, said that the Muslim Brotherhood used some images to "benefit their cause".
"The Muslim brothers know the importance of the image in the western media; they use it to seek sympathy," he told Al Arabiya.
The Muslim Brotherhood Facebook page also featured a picture of Egyptian football player Mohammad Abu Trika, apparently leading a demonstration against the military council in Cairo. Yet Abu Trika was pictured wearing winter clothes, in what turned out to be older footage that was passed off as being current.
"It was a big lie", said Zayda.
In another case, the Muslim Brotherhood's official website last week posted an article claiming that the new interim president Adly Mansour is secretly Jewish. It also made other unfounded allegations about him, such as Mansour being part of a conspiracy to appoint Mohammed ElBaradei, the former U.N. official and opposition figure, as president, according to Foreign Policy.
The article – later removed from the website – "suggests that some elements of the Muslim Brotherhood may be indulging in conspiracy theories", the Washington Post said.
Zayda alleged that the Muslim Brotherhood had recruited young people to criticize him and others via the internet.
"Every column I write I receive tons of emails from Ikhwan [Muslim Brotherhood members] insulting me; they try very hard to use the social media to portray a negative image and to destroy their political rivals; unfortunately for them the media in Egypt is wider than that," he said.
Muslim Brotherhood and pro-Mursi TV channels have also been accused of bias.
At least three Islamist TV stations – including the Muslim Brotherhood's Egypt 25 channel, as well as al-Hafiz and al-Nas – were forced off air by the army in the hours after Mursi was overthrown.
Author and journalist Abdel Latif el-Menawy, who was head of the Egypt News Center under ex-president Hosni Mubarak, said such channels lacked balanced and had helped stir tensions.
"These channels were not dealing in a proper way," el-Menawy told Al Arabiya. "They were tools in a fight. They were completely biased. [They were] creating hatred between Muslims and Christians, even between Muslims and Muslims."
Press freedom groups Reporters Without Borders and the Committee to Protect Journalists slammed the army's move to close the TV stations, saying it constituted a threat to free speech.
Yet while el-Menawy said he was "against any action that threatens the free media", he pointed out that "difficult circumstances" sometimes called for such measures.
Allowing the channels to start broadcasting again, and then dealing with any transgressions through proper legal channels is the best way forward, el-Menawy added. "They should get these channels to work again, and deal with them legally," he said.
During their heyday under Mursi, the Islamist channels were known for hosting guests that made wild accusations against public figures.
In June the presenter of a popular TV talk show on the Brotherhood's Egypt 25 channel accused several popular figures in the Egyptian media of apostasy and of links to the ousted regime of Hosni Mubarak.
Nourdeddin Abdel Hafiz even leveled accusations against Amr Mousa, saying the former presidential candidate worked for a "Zionist company" along with other remnants of the old regime.
The Al-Hafiz channel also hosted Mahmoud Shaban, a prominent Islamic professor from Al-Azhar university, who attacked the popular TV satirist Bassem Youssef.
Youssef had mocked Shaban on his own show, after the professor apparently refused to be interviewed by a female TV anchor. On al-Hafiz, Shaban responded to Youssef, calling him a "ribald" and "hypocrite". He alleged that Youssef received funding from Christian groups.
"If you are a man as you claim to be, and I doubt that, I challenge you to attack the Pope or any Christian figure… but you get paid by them and their associates, who manage your channel [CBC] through their advertisements and money," Shaban said in his angry response to Youssef.
Mainstream media channels such as Al Arabiya and Al Jazeera have also been subject to criticism during the recent events in Egypt.
Several Al Jazeera employees in Egypt quit their jobs amid concern over the channel's alleged bias towards the Muslim Brotherhood and its coverage of Egypt, with some media reports putting the number at 22. A source at Al Jazeera told Al Arabiya however that number is "considerably too high".
A media expert with access to Al Jazeera's newsroom said that the station's alleged pro-Brotherhood stance is being associated with its Qatari backers.
"The problem is Al Jazeera has recently cemented its position as being an instrument of the Qatari government, people associate it with the Qatari leadership," the media expert told Al Arabiya. "While it is true a lot of people are angry with Al Jazeera's pro-Brotherhood coverage, many more are really just angry at Qatar as they feel that nothing has changed with the abdication of the Emir [Sheikh Hamad] who is still ruling from behind the scenes."
Al Jazeera fiercely denies its coverage lacks balance, and said yesterday in a statement that the channel covers "all angles of events in Egypt with balance and integrity."
However, in the following video, Al Jazeera's television presenter and interviewer Ahmad Mansour calls for a counter uprising to the June 30 revolution. The slogan of the anticipated events, Mansour says, should be the Jan. 25 revolution, and not reinstating ousted president Mursi.
Ahmed Mansour calls for counter uprising
The Al Arabiya News Channel has also come under fire for its alleged anti-Brotherhood stance.
"Al Arabiya is fighting the Muslim Brotherhood, they are making fictitious enemies," said Omar Alzaid, a TV presenter at the Kasr Alsanam TV program on the Saudi-based Al Safa religious TV channel, in a clip available on YouTube.
"Al Arabiya has offended us, we love the Egyptian people, and they are our brothers… Al Arabiya abused us and made us seem conspirators towards other Arabs," he added.
Some tweeps resorted to claiming that Al Arabiya had falsified videos and Photoshopped images used in its coverage – something that the channel has denied.
A senior editor at Al Arabiya news channel said such fictitious claims were inevitable given the regional upheaval, saying that all the falsification is happening by activists on social media platforms, and that sometimes, Al Arabiya is a victim of such falsification attempts.
"In any conflict situation, emotions run high and people tend to want to shoot the messenger," the editor said. "At Al Arabiya we continue to pursue the truth and strive to let our audience know more; obviously, certain sides of the conflict will always not like this and accuse us of all sorts of things, however this doesn't and will not stop our pursuit of the truth."