Dubai's ruler Sheikh Mohammed bin Rashid al-Maktoum on Monday toured MBC Group's new production studio in Dubai Studio City.
The pan-Arab broadcaster's O3 Drama Production Studios, officially inaugurated yesterday, are equipped with virtual sets, LED lighting, motion tracking, real-time compositing and 2D and 3D imaging.
"Dubai reinforces its position as the leading hub for premium content production, in drama and TV programming, of different genres, with state-of-the-art studios of international standards," Sheikh Mohammed said at the ceremony.
Sheikh Mohammed viewed a 3D film inspired by Dubai, and stood in front of a giant 'green screen', which is used to create virtual backdrops for scenes in films and TV shows.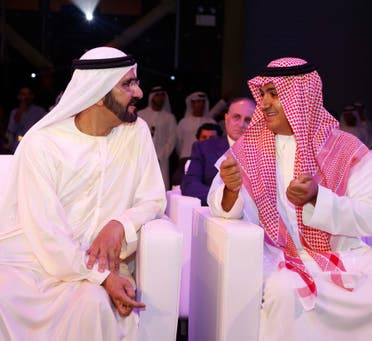 Sheikh Waleed al-Ibrahim, chairman of MBC Group, spoke of the company's move to Dubai from London 11 years ago.
"As we had bet before on Dubai when we left London in 2002, today we particularly bet on Dubai Studio City," he said. "We took the right decision back then, and we are quite sure we are taking the right one now. In terms of competency and capability, I believe Dubai Studio City is standing head to head with top global studios."
The launch of O3 Drama Production Studios is the result of a partnership between Dubai Studio City and MBC Group, with an objective to equip the Middle East and North Africa region with advanced studios which meet global standards.
Al Arabiya is also part of MBC Group.