A widely-circulated YouTube video of a man reported to be an Emirate national beating up a van driver who is said to be Indian has made headlines in local Emirati newspapers this week.
Arabian Business, Gulf News, Emirates 24/7 and The National covered the story and reported about the YouTube video that went viral showing the UAE man hit the Asian expat over a traffic dispute.
Dubai authorities arrested the man who posted the video on YouTube, the police said Thursday.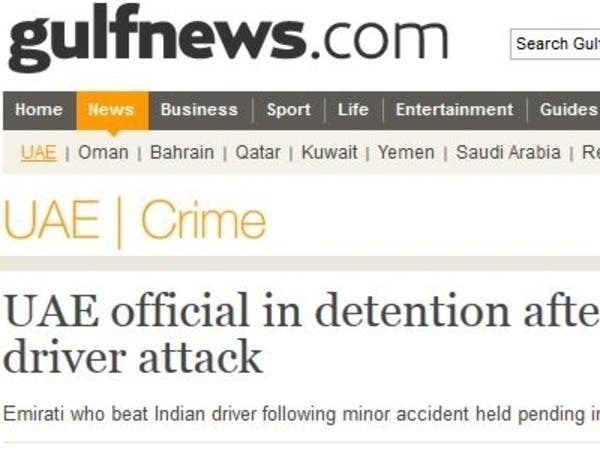 The video, which was filmed last week by a passer-by, shows a middle-aged Emirati man slapping the driver and beating him with the rope-like band used to hold the traditional Arab head-dress. It was unclear whether charges were filed over the assault.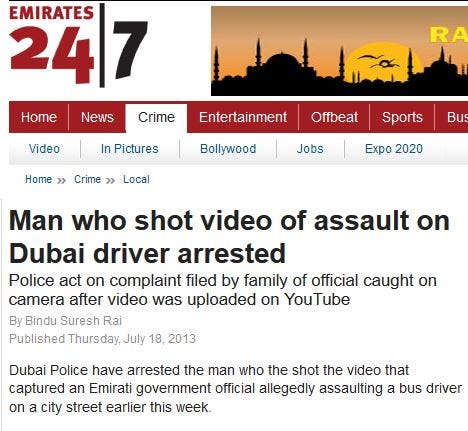 The Emirati citizen was detained Tuesday after the video went viral via social networking websites, Arabian Business reported, adding that he might face up to one year in jail or a maximum fine of AED10,000 ($2,723). However, if the Indian driver is convicted of filming without permission or defamation, he also faces a jail sentence or a fine.
"The defendant, who was exposed on YouTube assaulting the victim, has been detained. He has been confronted by the video footage that went viral on social media networks. The investigating prosecutor has summoned the Indian victim to hear his statement," said Acting-Attorney General Yousuf Hassan Al Mutawa on Wednesday, according to Gulf News.
(With AP)