A cameraman for Britain's Sky News and a Dubai-based reporter have been killed in Egypt, amid today's bloody crackdown on supporters of former president Mohammad Mursi.
Other journalists have faced beatings and detention by security services during the clashes, according to New York-based media rights group Committee to Protect Journalists (CPJ).
Sky News cameraman Mick Deane, 61, was covering today's violence when he was killed. Deane had worked for Sky for 15 years, based in Washington and then Jerusalem, the broadcaster said.
It was not immediately clear who was responsible for his death. Sky News said other members of its team in Cairo were not injured.
The news drew messages of condolence and tributes to Deane.
"I am saddened to hear of the death of cameraman Mick Deane, covering Egyptian violence. My thoughts are with his family and @SkyNews team," David Cameron, the UK prime minister, wrote on Twitter.
Sky News said in a statement that Deane, who was married with two sons, was a "hugely experienced" journalist.
"Mick was part of a Sky News team reporting on the disturbances in the city with Middle East Correspondent Sam Kiley when he was shot and wounded. Despite receiving medical treatment for his injuries, he died shortly afterwards," the statement said.
John Ryley, Head of Sky News, paid tribute to Deane.
"Everyone at Sky News is shocked and saddened by Mick's death. He was a talented and experienced journalist who had worked with Sky News for many years. The loss of a much-loved colleague will be deeply felt across Sky News," Ryley said in a statement.
It was also reported today that the Dubai-based reporter Habiba Ahmed Abd Elaziz, 26, was shot and killed during the unrest in Cairo.
Elaziz, a staff reporter for XPRESS, a sister publication of Dubai's Gulf News, was shot dead in Cairo on Wednesday morning, according to the Gulf News website.
Reporter killed in Egypt clashes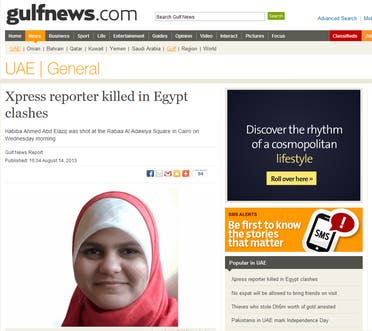 Family members said she was shot at the Rabaa Al Adawiya Square, according to the report.
Abdul Hamid Ahmad, editor-in-chief of Gulf News, said that Elaziz's family members had confirmed her death. "All [members of] the newsroom - XPRESS and Gulf News - are in shock," Ahmad told Al Arabiya. "They are upset and very sad."
Ahmad said that Elaziz was not on an official assignment at the time, and was taking annual leave during her visit to Egypt.
Sherif Mansour, Middle East and North Africa coordinator for the CPJ, said that other journalists had faced attacks during today's clashes in Egypt.
"There are multiple other cases we are looking into, including... beatings and detentions of journalists," Mansour told Al Arabiya.
Mansour said the CPJ had confirmed that Sky News cameraman Mick Deane "was shot while doing his work, and covering the clashes". The CPJ is still investigating the reported death of Elaziz, he said.
The CPJ today published a report on the state of media freedom in Egypt, which claimed "repressive tactics" continue to be used in the country after the fall of former presidents Hosni Mubarak and Mohammad Mursi.
Mansour condemned today's violence against journalists.
"It's the responsibility of the government to guarantee the safety of all civilians, even in a conflict situation," he said. "We were hoping that the interim government would respect the rights and freedoms of journalists."