An alleged attempt by al-Qaeda to make it big in the Twittersphere this week has backfired after the Twitter masses sought to "hijack" a pro-jihadist hashtag.
An apparent al-Qaeda Twitter account asked followers for suggestions to help spread Jihadism, instead, the account was deluged with satirical advice, Britain's The Daily Mail reported on Friday.
Finding the Arabic hashtag #suggestions_to_develop_jihadist_media, J.M. Berger, a U.S.-based security analyst, suggested earlier this week on Twitter that users hijack the hashtag with useless suggestions in order to drown out genuine offers of help.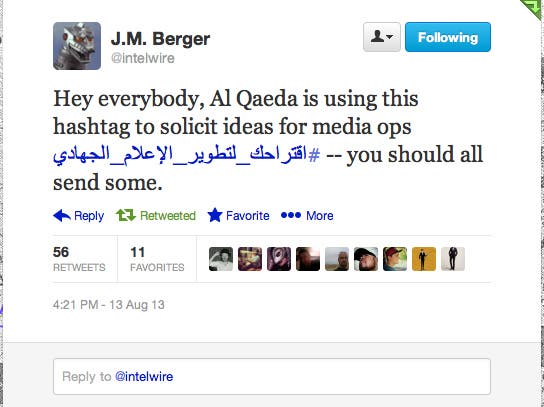 In one satirical response, Twitter user Mike Doran suggested that al-Qaeda's leader Ayman al-Zawahiri should "start 'Martyrdom,'" AQ's brand of exclusive fragrances," according to the Daily Mail.
Another user suggested: "More cats in online video releases."
"For the record, the jihadis managed to get about 200 tweets before the 2,200 provided by 'Merica," tweeted Berger on Friday.
Twitter responded by suspending the account of the hashtag's creator, @gdslooptadhi, who criticized the "infidels" for ruining his idea, according to the Daily Telegraph.
"In the 'old' days, post-Internet but pre-Twitter, from the early to the late 2000s, Jihadism functioned largely as a top-down enterprise," wrote Berger in a recent article in Foreign Policy, demonstrating how Twitter can aid extremism.
"Jihadists lived in a petri dish, and if a user didn't know his place, he found himself on the outside looking in. Social media is changing that dynamic at a startling pace. Because relationships are free-form and unconstrained, jihadists are seeing a substantial increase in dissent," Berger wrote.