Al Jazeera America has divided the critics since it hit the airwaves on Tuesday – with one saying the channel marks "a fresh perspective", while another claiming it propagates "biased news".
The Qatari broadcaster launched the news station after spending $500 million to broaden its distribution in the U.S., and amid heightened concern over its existing channels' coverage of Egypt.
Unrest in Egypt featured prominently in the first few hours of Al Jazeera America's coverage, along with domestic matters such as a school shooting in Atlanta and U.S. climate change.
The launch drew skepticism from the prominent City University of New York journalism professor Jeff Jarvis.
"They hired people straight out of traditional TV news; they tried hard not to hire foreigners. But what I was hoping for was a new form with new perspectives," Jarvis said on Google+, according to AFP.
Other commentators said they expected Al Jazeera America to be tinged by the same alleged bias as its sister stations are sometimes said to have.
"Its biased news creates schism in public opinion," said Ibrahim Nawar, who worked as head of Al Jazeera's business news section in London for four years.
"Selective coverage"
"If they want to promote a certain point of view, they will bring a strong commentator against a weaker commentator whose… point of view they oppose," Nawar told Al Arabiya. The Al Arabiya News Channel, of which this website is part, is a competitor of Al Jazeera.
Nawar, former president of the London-based media advocacy group Arab Press Freedom Watch, is now a member of the steering committee of Mohammad ElBaradei's Dustour party in Egypt.
Nawar said he expects Al Jazeera America's editorial line to be similar to its Arabic channel and existing English station, which he says are "selective" and not "comprehensive."
"I warn that some form of extremism [could] be enticed in some of the Muslim Americans in the United States due to Al Jazeera's selective and distorted coverage," he said.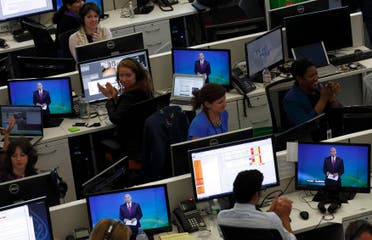 Other commentators welcomed the new station, but acknowledged that it faced a battle for audiences and advertising revenue in the crowded U.S. television-news market.
"Al Jazeera America certainly deserves to do well in the U.S., for it should add value by adding a fresh perspective. They seem to understand that their appeal has to be based on that because their tagline is: 'there's more to it'," said George Brock, Professor and Head of Journalism at City University in London.
"But TV markets everywhere are very crowded, competition is cutthroat and the public is saturated with choice. They will appeal to an upscale audience, but it may be slow work to break in," Prof Brock told Al Arabiya.
Positive first impressions
Other academics in the field of journalism said they had positive first impressions of Al Jazeera America (AJAM).
"The reporting appears to be unbiased and objective," said Matt Duffy, who teaches media law at Kennesaw State University in Georgia.
"Overall, the addition of AJAM to channel outlets can only be a good thing for an American audience that lacks exposure to diversity in news reports, particularly in international news," he added.
However, Prof Duffy questioned how much commercial pressure the new station will face, as it competes for advertising with established players like CNN, MSNBC and Fox News.
"One wonders whether the channel will ever generate much of an audience but that's the benefit of being owned by Qatar – there's no real need to ever generate a profit," he said.
Criticisms
The launch of Al Jazeera America comes as the Qatari broadcaster has faced a barrage of criticism for its perceived bias towards the Muslim Brotherhood in its coverage of the political crisis in Egypt.
Al Jazeera's Arabic-news station has an "apparent support of the Muslim Brotherhood" in its coverage, wrote Al Arabiya columnist and Professor Emeritus of Journalism at the American University in Cairo Abdallah Schleifer earlier today. Al Arabiya has also faced criticism for its perceived bias against the Muslim Brotherhood.
Following the overthrow of Brotherhood-backed President Mohammad Mursi, , 22 Al Jazeera staff members reportedly resigned last July in objection to the channel's editorial line.
Following his resignation, Al Jazeera correspondent Haggag Salama accused the station of "airing lies and misleading viewers," in statements made to the UAE-based Gulf News.
The Doha-based broadcaster was also recently accused of quoting a non-existent market study which they used to claim that that their Arabic language news channel is the most-watched in the region.
In recent days, Egyptians on social media were sharing this clip (which Al Arabiya couldn't verify independently) http://nabdapp.com/t/5019794 Which reportedly shows the channel cutting off footage after it became apparent that a person described as a pro-Mursi supporter was faking his injury.
Al Jazeera did not respond to attempts to contact them.
Praise
Some mainstream media in the United States praised the launch of Al Jazeera America.
The New York Times described the new station as "the most ambitious American television news venture since Rupert Murdoch and Roger Ailes started the Fox News Channel in 1996."
It even drew praise from media critic Howard Kurtz, speaking on the right-wing Fox News Channel. Kurtz said Al Jazeera America's early coverage was "not much different, at least so far, than what you might see on Fox News, CNN or MSNBC," Reuters reported. One top story on Egypt was "right down the middle" in terms of balance, he said.
Twitter reactions
Yet some Twitter users were more skeptical – including several social media users in Egypt. "In its first coverage, Aljazeera America broadcasts Egypt events in a dirty way," wrote @Hisham_Algakh.
Another Egyptian Twitter user, @for3onia, said: "In its first day coverage to influence the American public opinion with its dirty lies, Aljazeera is a channel that Egyptians are also suffering from."
But it had some supporters. User @shaikarak wrote: "Aljazeera America was launched, I hope the network keeps its standard in being the voice of fairness for all oppressed Arabs and Muslims."
Practical challenges
The critical reception aside, Al Jazeera America faced a setback of a more practical nature upon its launch yesterday.
Due to a contract dispute, AT&T refused to carry the new channel on its U-verse pay-TV service, prompting Al Jazeera to sue the U.S. phone company.
Al Jazeera built a foothold in the U.S. with a $500 million purchase of Al Gore's Current TV network, which included cable distribution.