Forget your typical peace sign, two fingers are so last century.
A new victory sign has been flashed across Egypt to remember the Rabaa al-Adawiya protest camp, which was dispersed last week in a deadly military crackdown on demonstrators in support of former President Mohammed Mursi.
The "four-fingered salute," as it has come to be known, is being publicized by bright yellow signs posted on social networking websites by Egyptian masses wanting to remember Rabaa protesters who camped out for weeks in Cairo.
In Arabic "Rabaa" means "fourth," and the hand gesture is being used to display solidarity with protesters.
The original and parody 'Rabaa hands'
Last Thursday, Egypt's Health Ministry said that 623 people were killed, and thousands wounded, in what has been described by commentators as the worst day of civil violence in the country's modern history.
The Brotherhood stated the death toll was closer to 2,200.
The military vowed to clear the protests outside Rabaa al-Adawiya mosque and Giza's Nahda Square, saying they were not peaceful and represented a threat to stability.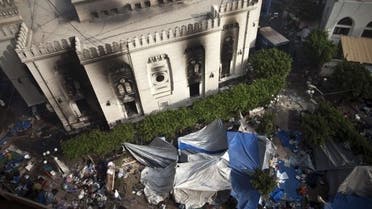 Several so-called "anti-coup" web pages called for all Facebook and Twitter users to use this sign in their display pictures to show their solidarity with those who were harmed during the clear-outs.
And it's not just protesters who have been flashing the Rabaa salute, Turkish Prime Minister Erdogan was reported to be one of the first to promote it – if not the instigator of the trend.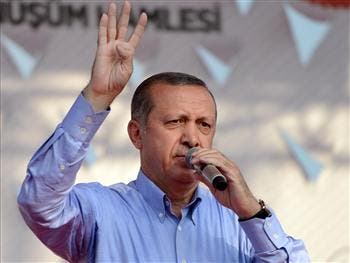 During a speech delivered on August 17 to mark the launch of an urban renovation project in Bursa, Erdogan, a staunch opponent of Mursi's ouster and the deadly violence which ensued, saluted the crowds several times with this sign.
The sign was also raised by several Turkish footballers after scoring goals. It is believed the first player who raised it was Emre Belözoglu, a Fenerbahçe midfielder who formerly played at Inter Milan.
"From there on, the sign was adopted by international anti-coup activists," writes Motasem A. Dalloul in a blog for the Middle East News Monitor.
Then, Istanbul-based humanitarian aid group IHH began handing out T-shirts and badges with a yellow and black logo of the hand gesture, Reuters news agency reported. The image is also doing the rounds on Turkish social media.
At this point, the symbol's popularity began to rise.
'What is R4bia?'
"It spread within a few hours," says Caroline Emile, a 37-year-old Egyptian who works in Cairo as a marketer. "The first day I saw it was Sunday (August 18)," she stated.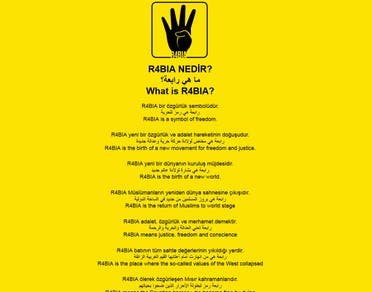 Despite the symbol having no clear origin, a website was launched by activists in Turkey called "R4bia.com," in reference to Rabaa square.
It provides an Arabic, English and Turkish list of answers to the question "What is R4bia?" which has also become a hashtag on Twitter. Here is part of the site's explanation of their campaign:
R4BIA is a symbol of freedom.

R4BIA is the birth of a new movement for freedom and justice.

R4BIA is the birth of a new world.

R4BIA is the return of Muslims to world stage

R4BIA means justice, freedom and conscience

R4BIA is the place where the so-called values of the West collapsed

R4BIA means the Egyptian heroes who became free by dying

R4BIA is the name of those who wake all the Islamic world with their death

R4BIA is the place of people who show the death is a revival

R4BIA is the new name of our children who will change the world

R4BIA is a new breath to humanity

R4BIA is justice for everyone against rotten Western values

R4BIA is unification of Islamic World

R4BIA is our daughter Asma
"Our daughter Asma" is a reference to Asma el-Beltagy, the daughter of senior Muslim Brotherhood leader Mohammad el-Beltagy who was killed when security forces cleared the Raaba protest camp.
Speaking on condition of anonymity to Al Arabiya English, a source from the website's managerial team said there were "no single owners of "R4bia.com."
"The owners are Shiite and Sunni Muslims who die in Syria, Iraq, Myanmar, Gaza and in a dozen of other parts of the world.
"This website is theirs who want to build a just, new world against the corrupted and immoral system of West and East," the source said.
The Turkish premier, meanwhile, had high hopes for the sign.
"Erdogan, it is said, expected that this sign would replace the traditional 'V' sign to represent both victory and solidarity," said Dalloul.
But perhaps what Erdogan didn't expect was the backlash from the anti-Mursi masses, opposed to thousands of protesters occupying Cairo protest camps, and their response to the hand gesture.
Make it five, not 'Rabaa'
One of the images circulating in response to the four-fingered salute is a hand brandishing five fingers, a traditional Egyptian sign to banish away bad luck or a "curse."
The phrase beneath the hand, pictured on many social media sites, shows a statement in support of Egypt's military commander General Abdel Fatah al-Sisi.
Another image, also in support of the military, shows two hands making "OK" signs. The fingers however are curved in the form of two "C" shapes, intending to show "C-C." Say it, and you'll be saying the army general's name.
"Egyptians have a long history as the region's funny men. In many other Arab countries, Egyptians are known as "ibn nukta," or "the son of jokes," wrote Megan Detrie in a comment piece for UAE-based The National in an article on political comedy in the country.
During the January 2011 revolution which ousted former President Hosni Mubarak, Egyptians shared clever Twitter jokes and impish protest placards from sit-in demonstrators, including "Mubarak, leave! I need a haircut."
During Mursi's one year in power, incidents such as the former president licking his finger to swipe his iPad or "turn the page," didn't go unnoticed by the media masses.
Joke gone too far?
But the ability to turn a symbol of solidarity with the Rabaa victims into a few jokes has attracted some controversy.
"I hate how they're all making fun of our sign," said Ahmad Nageeb, an engineer based in Cairo who was at the Rabaa sit-in two days before the camp was dispersed. He is now a supporter of the Anti-Coup Coalition that is organizing continued protests.
"Not everything has to be turned into a joke in this country. We remember the deaths with the sign because we want to show the martyrs respect, and continue fighting for what they believed in – peacefully."
For Emile, however, the sign does not necessarily symbolize the Rabaa protester deaths, and the parodies made of the sign should not be deemed controversial.

"There's no official explanation of what this sign means, I don't think it's an organizational or official symbol for remembering the dead. It's about people supporting and remembering the Rabaa sit in.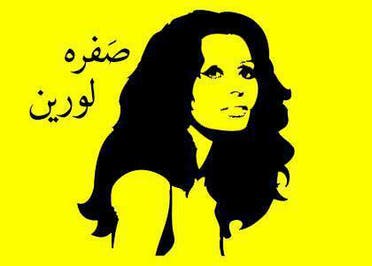 "In people's minds, it's not associated to the actual dispersal. It's a sign to show continued support for the protests that were there.
"Egyptians have always had a sense of humor, I guess people have a funny spin on anything, no matter what they are going through."
"The funniest one I saw was when somebody went totally off track and created a yellow Rabaa sign with an image with the actress Sophia Loren."
And why was this funny? Emile explains the intended pun:
"Describing something as yellow in Arabic is pronounced 'Safra' – a similar sound to the pronunciation of her name in Arabic. So they put her picture instead of her name, against the yellow background. Somebody must have really been bored to do that!"