High-profile media companies including the New York Times, the Huffington Post and Twitter lost control of their websites Tuesday after hackers supporting the Syrian government breached an Australian-based Internet company that manages many major site addresses.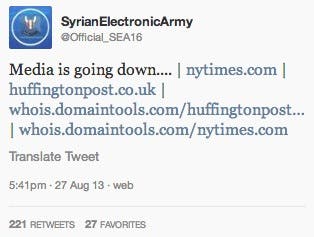 The Syrian Electronic Army (SEA), a group that has previously claimed responsibility for other such attacks, including on Al Arabiya social media accounts, asserted its responsibility for the hacks in multiple messages on Twitter.
The New York Times site was down for a whole hour, and redirected visitors to the site to a server controlled by the Syrian group.
The SEA had managed to gain control of the sites by penetrating Melbourne IT, an Australian Internet service provider that sells and manages domain names including Twitter.com and the New York Times.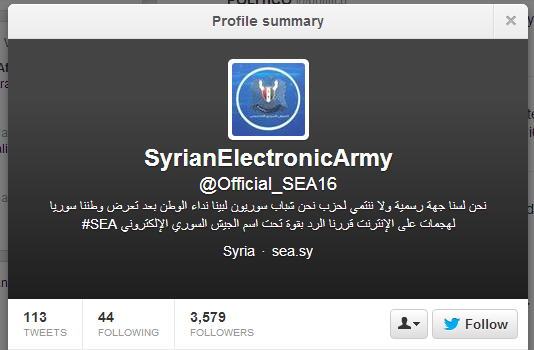 The attacks came as reports of potential action by the U.S. government against the Syrian regime due to the recent nerve-agents atrocity in the country.
The Huffington Post was affected on its UK address, and Twitter confirmed issues that lasted for an hour and a half but emphasized that no personal data had been compromised during the attack.
In a blog post, Twitter said "it appears DNS (domain name system) records for various organizations were modified, including one of Twitter's domains used for image serving, Twimg.com. Viewing of images and photos was sporadically impacted."
The SEA gave a cryptic warning shortly before they hacked the websites, saying "Media is going down ..."
A Syrian Electronic Army activist confirmed to The Associated Press that the group hijacked the Times' and Twitter's domains by targeting the Australian company.

"I can't say how, but yes we did hit Melbourne IT," the hacker said in an email.
Michael Fey, a chief technology officer at cyber security firm McAfee, said that as long as media organizations play a role as influencers and critics, they will continue to experience cyber-attacks such as those viewed yesterday.
"Regardless of technology or tactics deployed, we should expect to see more of these attacks," he said.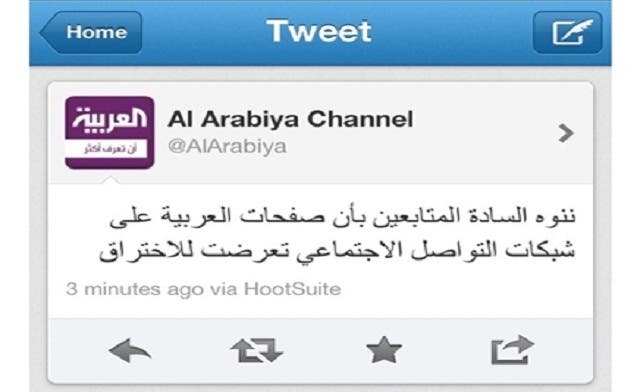 In March and April 2012, the Facebook and Twitter accounts of Al Arabiya News Channel were infiltrated by SEA hackers who posted false news that they attributed to the channel.
Al Arabiya's accounts on social networking websites have been subjected to several hacking attempts by the group for covering anti-regime demonstrations and exposing the brutality of Bashar al-Assad's regime.
"This page has been hacked by the Syrian Electronic Army," read a message on the page which was accompanied by two long statements in Arabic and English in which Al Arabiya was criticized for its coverage of the Syrian revolution.