Hoax or not, international media have been quick to report on a Facebook post purported to be written by the 11-year-old son of Syrian President Bashar al-Assad this week.
The post that has been attributed to Assad's son, Hafez, appears to affront the idea of a U.S. military strike on Syria.
"I just want them to attack sooo much … I want them to make this huge mistake of beginning something that they don't know the end of it," the post reads, according to a snapshot circulating in Western press on Friday.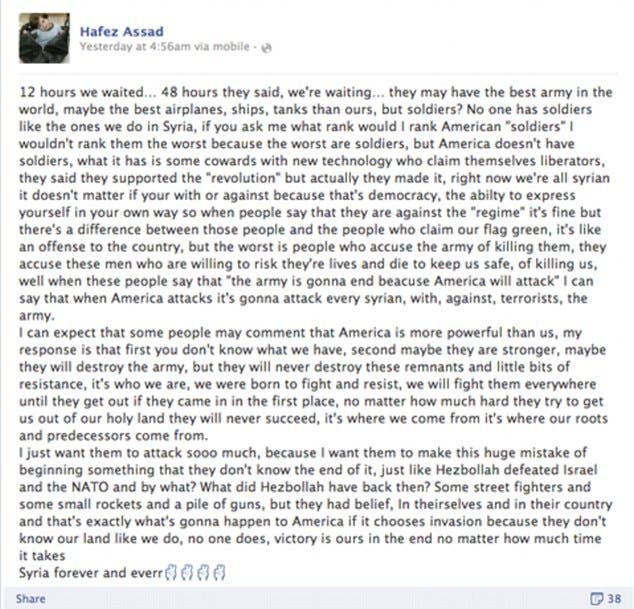 "I can expect that some people may comment that America is more powerful than us," the post added. "They will never fight and destroy these remnants and little bits of resistance, its who we are, we were born to fight and resist, we will fight them everywhere."
Despite stating that the Facebook post is "impossible" to verify, American and British news sites were rife with speculation over the page's authenticity.
But have outlets such as The New York Times, the Guardian and the Daily Mail been too quick to jump on the bandwagon, reporting on a story that should have been quickly brushed off as a hoax?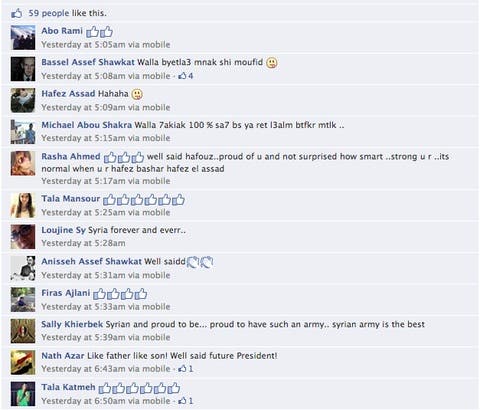 "There is a contradiction in the media representation [of this news]," Middle Eastern media analyst Dr. Halla Diyab told Al Arabiya English.
"In the West, we see media based on reporting facts and raising public awareness of the truth, as well as being objective. And yet, [Western media outlets] have no sufficient evidence to verify this post."
In this case, lacking solid evidence to suggest the post was a hoax, the press turned to speculation.
"What they have done is analyzed the post and seen that there are tastes of the tone the Syrian regime has used in previous scenarios in their internal communications," stated Diyab.
And ultimately, it's the fact that any news coming out of the Syrian inner circle will be of high media interest.
"There is no clear channel of communication with the Syrian regime. Anything that appears to be published on behalf of the regime or the Assad family is immediately reported on and is of big interest."
Strange but true?
A Syrian journalist speaking on condition of anonymity to the New York Times this week said the Facebook accounts of the users who commented on the post, including children of Assef Shawkat, the late security chief and Assad's brother-in-law, appeared to be authentic.
The New York Times' Liam Stack briefly assessed the possibility of the page being a hoax, saying that it would have been a "highly elaborate" one, enough to fool Hafez al-Assad's cousins.
Still, the journalist was not quoted as saying that the account purporting to be that of Assad's son himself was authentic.
Meanwhile, The Telegraph assessed the Facebook page, speculating on how the alleged 11-year-old describes himself, taking into account his prose.
"Hafez, if it is him, writes in ungrammatical English and refers to the Montessori school where it is known he was educated. He also declares himself to be a graduate of Oxford University and a player for Barcelona football club, untruths that seem likely enough for a real 11-year-old but unlikely for someone wanting to create a spoof," wrote The Telegraph's Richard Spencer.
The post, which was subsequently deleted, also dared the U.S. military to attack Syria.
"They may have the best army in the world, maybe the best airplanes, ships, tanks than ours, but soldiers? No one has soldiers like the ones we do in Syria … America doesn't have soldiers, what it has is some cowards with new technology who claim themselves liberators."
Among the most heated statements in the Facebook post is a comparison of the possible action by America to the 2006 war between Israel and the Lebanese militant group Hezbollah, one of the Assad regime's closest allies.
"What did Hezbollah have back then? Some street fighters and some small rockets and a pile of guns, but they had belief, In theirselves and in their country and that's exactly what's gonna happen to America if it chooses invasion because they don't know our land like we do, no one does, victory is ours in the end no matter how much time it takes," the author wrote.
Commenters on the page applauded the post, with one of them writing: "Like father like son! Well said future president!"
'It's not Hafez'
"Anyone who knows Assad's family well knows that this isn't the way Hafez al-Assad writes or even talks," T. al-Ahmed, a Syrian IT engineer who works with the oppositional Free Syrian Army told Al Arabiya, not wanting to provide his full name.
"I had to carry out research on the news as soon as it came out and contacted teachers at his school. I have always known Hafez is a shy boy, unlike his brother Karim, but teachers in his school told me he cannot write in such a descriptive way.
"Either way, it can never be proven that it's his Facebook page. Even if it is his page, it can't even be proven that he wrote it. It is highly unlikely that it has anything to do with him." Ahmed added.
In response to the news, Time Magazine reported on the subject, asking: "Did Bashar al-Assad's 11-year-old son taunt the U.S. military?" Britain's Daily Mail carried the news with a similar angle: "Has Assad's SON dared America to invade Syria on his Facebook account?"
"Whether authentic or not, the post illustrates the support that President Assad continues to garner, despite a two-year civil war that has killed more than 100,000 Syrians and caused millions to flee for their lives," the Daily Mail noted in its report, adding: "The post also shows that those who do support Assad are unafraid of any United States retaliation."
Britain's The Guardian published a similar analysis.
"To Assad supporters, it is a bold piece of defiance, worthy of his father, showing the U.S. what Syria has in store for it should it attack. To opponents of the regime, it is alarming proof that 11- year-old Hafez al-Assad takes after his dictator dad."
In recent weeks, Western powers have been gearing up for a punitive strike against the Syrian government for purportedly using chemical weapons against civilians on Aug. 21.
On Friday,a U.S. intelligence report found the Syrian regime used chemical weapons in the attack which killed nearly 1,500 people.
U.S. President Barack Obama has said he is considering a "narrow" and "limited" attack on Syria. Obama said the ground forces would not take part in the attack.