Iranian President Hassan Rowhani and his cabinet have opened Facebook accounts, signaling a new front in the Iranian president's drive to promote his political agenda on social media.
The accounts can only be seen by those with internet filter breakers as Facebook is among a vast number of websites blocked under the country's stringent censorship regime.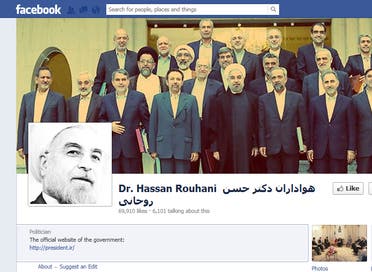 It is hoped that the move could usher in a new era of openness, especially following a series of high-profile messages from senior officials.
Last week, a tweet from an account in the name of the current president created a media stir by extending greetings to Jews for the Jewish New Year – breaking from the anti-Semitism associated with Mahmoud Ahmadinejad, Rowhani's predecessor.
Rowhani's page has almost 70,000 "likes." In contrast, the Iranian government's "Webpage of the Government of Wisdom and Hope," opened on August 30, currently has around 3,000 "likes."
A relatively moderate cleric, Rowhani previously vowed to ease internet censorship lamentinh Iran's "security atmosphere," according to The Telegraph.
Despite legal prohibitions for ordinary Iranians the use of social media by senior officials is not unprecedented; accounts are held in the name of Supreme Leader Ayatollah Ali Khamenei.
Social media platforms Facebook and Twitter were officially banned in Iran following the upheaval due to Ahmadinejad's re-election in 2009, when opposition activists tried to use their accounts to organize demonstrations.