Saudis banned from Harrods? Pakistan paper falls for it
Established Pakistan newspaper quotes satirical website's joke that Gulf nationals have been barred from Qatar-owned London store
At a time of rising tensions in the Gulf, relations between Qatar and its neighbors has become a topic for serious analysis.
So serious, in fact, that one Pakistan newspaper missed the joke completely.
The News International, one of the most established English newspapers in Pakistan, today ran a report in which it was claimed that Qatar had banned Saudis, Bahrainis and Emiratis from entering its upmarket London department store, Harrods.
"Banning Arabs from Harrods may not create a big political or strategic upheaval but it is definitely an insult no rich Arab sheikh or emir would take lightly," was the newspaper's take on the affair.
Except, of course, that Saudis and other Gulf nationals can still wander freely into Harrods – for no such ban was ever made.
The News International had in fact lifted the story from The Pan-Arabia Enquirer, a satirical website that is becoming increasingly high-profile in the Middle East and beyond.
The fact that the site is satirical (and is clearly marked as such) was apparently missed by writer Shaheen Sehbai and his editors at The News International.
In its analysis of the tension between Qatar and several of its neighbors, the newspaper republished several fictitious quotes from The Pan-Arabia Enquirer, including one from a Middle East analyst dubbed "Bella Cockpit".
It also quoted a fictitious statement from the Qatari side: "Sure, they can withdraw their ambassadors, but let's see how they feel when they can't enjoy a luxury retail experience spread over seven floors, 330 departments and 20,000 square metres in one of London's most exclusive neighborhoods," the newspaper quoted the 'Consultative Assembly of Qatar' as saying.
What a joke: Pakistan paper publishes satire as news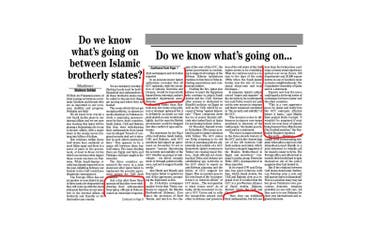 The story stemmed from the very real news last week, when Saudi Arabia, the United Arab Emirates and Bahrain decided to recall their envoys from Doha. The move was interpreted as a response to Qatar's support of the Muslim Brotherhood, which Saudi Arabia and the UAE consider a 'terrorist' movement.
The News International appeared to have realized its error after much mockery on Twitter, and later updated the online version of the story. But the original print version is still visible on its website. Executives from the newspaper did not respond to requests for comment.
But while the newspaper missed the joke, one of the writers behind The Pan-Arabia Enquirer continues to see the funny side.
"It is a testament to the growing reach of our satirical work that publications such as Pakistan's The News International are now turning to us as a provider of up-to-the-minute fictitious news," the writer, who prefers to remain anonymous, told Al Arabiya News.
"We applaud their decision to trust our journalists enough to not change a single word or even bother to check whether our sources exist or not."