With no reproach, Egyptian media hail Sisi's inauguration
Some anchors have found it complicated to keep their journalistic objectivity
Egyptian television presenters have reacted positively Sunday to new President Abdel-Fattah al-Sisi's inauguration, with critical voices barely heard.
Lamis al-Hadidi, an Egyptian anchor, jumped up to the tunes of the country's national anthem and started clapping in the studio of privately-owned channel CBC Extra, following the arrival of the newly elected president at the Supreme Constitutional Court in a suburb south of Cairo to be sworn in.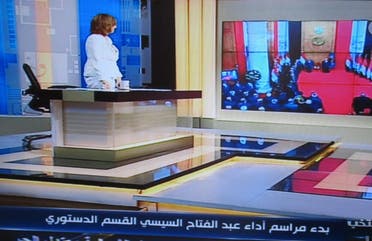 During her show, Hadidi, who heaped praise on Sisi, made a comparison between the Supreme Court members' smiling faces while receiving Sisi in comparison with Mursi in 2012.
Some analysts, who described Hadidi's reaction as '"clearly unprofessional," said that the presenter like most of the anchors on Sunday was trying to reassure Egyptians and make them feel that their country is back.
"Even though speaking about total objectivity seems impossible in Egypt, Hadidi shouldn't have reacted in such a way if she calls herself a journalist .. it was completely unprofessional" Nafissa al Sabbagh, a media analyst and former editor in chief of the English online daily newswebsite al-Youm 7, told Al Arabiya News.
Meanwhile, Maha Bahnassi, another pro-Sisi journalist, congratulated the newly elected president on his victory and said that "Egypt was finally back to its people."
"Congratulations to Egypt … congratulations Mr. President … finally Egypt is back to its people … God bless Egypt and Egyptians," she wrote on her personal Facebook account.
Advised
Amr Adeeb, another prominent presenter advised the newly elected president to remain humble and not to deceive Egyptians.
"Out of six Egyptian presidents, four disappeared in mysterious circumstances … while Egyptians used to love them [at first]," Adeeb said during his show al-Qahera al-Youm.
"Please do not betray the love of the Egyptian population, we are a very passionate population who either love a lot or hate a lot," Adeeb said, begging Sisi not to disappoint Egyptians.
Mahmoud Saad, another television broadcaster, criticized the paralysis of the traffic caused by Sisi's trips across the Egyptian capital.
"The country won't be able to bear these kinds of jams in the future," Saad said adding that such a stir can only be made on certain occasions.
Criticism
The criticism of Saad regarding the ceremony is an indicator that the Egyptian media might start being more unbiased - unlike what had been seen since the ouster of Mursi in July, Sabagh said.
"Now that the 'strong man' is in power, we can hope to see the return of a less biased media or at least one that is not as blindly supportive of Sisi as before and which presents constructive criticism."
Since the removal of Mursi, all media outlets were praising Sisi as they all had a common target to combat terrorism, Sabagh said.
Sabagh said that she was more concerned about censorship from the owners of the private media as they not only have political stakes but also economic ones.
"These owners, who are most of the times close to the regime, want to satisfy the audience as it means money so they start to apply more restrictions on their anchors," she said, adding that since the country turned against the Muslim Brotherhood, private channels almost never hosted guests from the group.
Sisi was sworn in on Sunday as president for a four-year term, after taking the oath of office before the Supreme Constitutional Court.
Following his victory against his only rival - leftist politician Hamdeen Sabahi - last month, the former army chief became Egypt's eighth president since the overthrow of King Farouk in 1952.