ADMS: Facebook shuns 'full regulation' despite ISIS threat
Social-networking executive speaks out at Abu Dhabi Media Summit, amid heightened concerns over extremist material posted online
Stricter regulations have the potential to "ruin" social-media platforms, a senior Facebook executive has warned, despite mounting concerns over the use of such sites by extremists.
Facebook and Twitter have been accused by spy chiefs as aiding groups like the Islamic State of Iraq and Syria (ISIS), which have used the internet to recruit foreign fighters and coordinate attacks.
Robert Hannigan, head of Britain's electronic spying agency GCHQ, this month warned that internet companies have become "the command and control networks of choice" for terrorists, calling for greater cooperation with security services.
A panel on social media held at the Abu Dhabi Media Summit (ADMS), which opened on Tuesday, heard calls for greater regulation of social-media sites.

But Richard Allen, Facebook's vice president for public policy in Europe, Middle East and Africa, told Al Arabiya News that "full, formal regulation" – similar to what is applied in the traditional media – would not work if applied to social sites.

"If whoever speaks on social media [is] regulated like a TV station or newspaper, that's not going to work," he told Al Arabiya News.

Allen said social networks are already subject to many regulations, and that the site itself monitors for content that could be deemed extremist.

"We're really clear – terrorist content has to come down, and people who are involved in terrorism should be prosecuted by the authorities. It couldn't be clearer."

But he said stricter regulation has the potential to "ruin" sites like Facebook.

"Let's not create a standard for everyone that is in response to that small minority, if by creating that standard we then ruin the thing that we've created," he said.

Allen was speaking on a panel titled on the 'transformative power of social media in the Middle East'.

Faisal J. Abbas, Editor-in-Chief of Al Arabiya News, blogger Ahmed Shihab-Eldin and Ayman Safadi of the consultancy Path Arabia also spoke on the panel, which was moderated by CNN anchor Becky Anderson.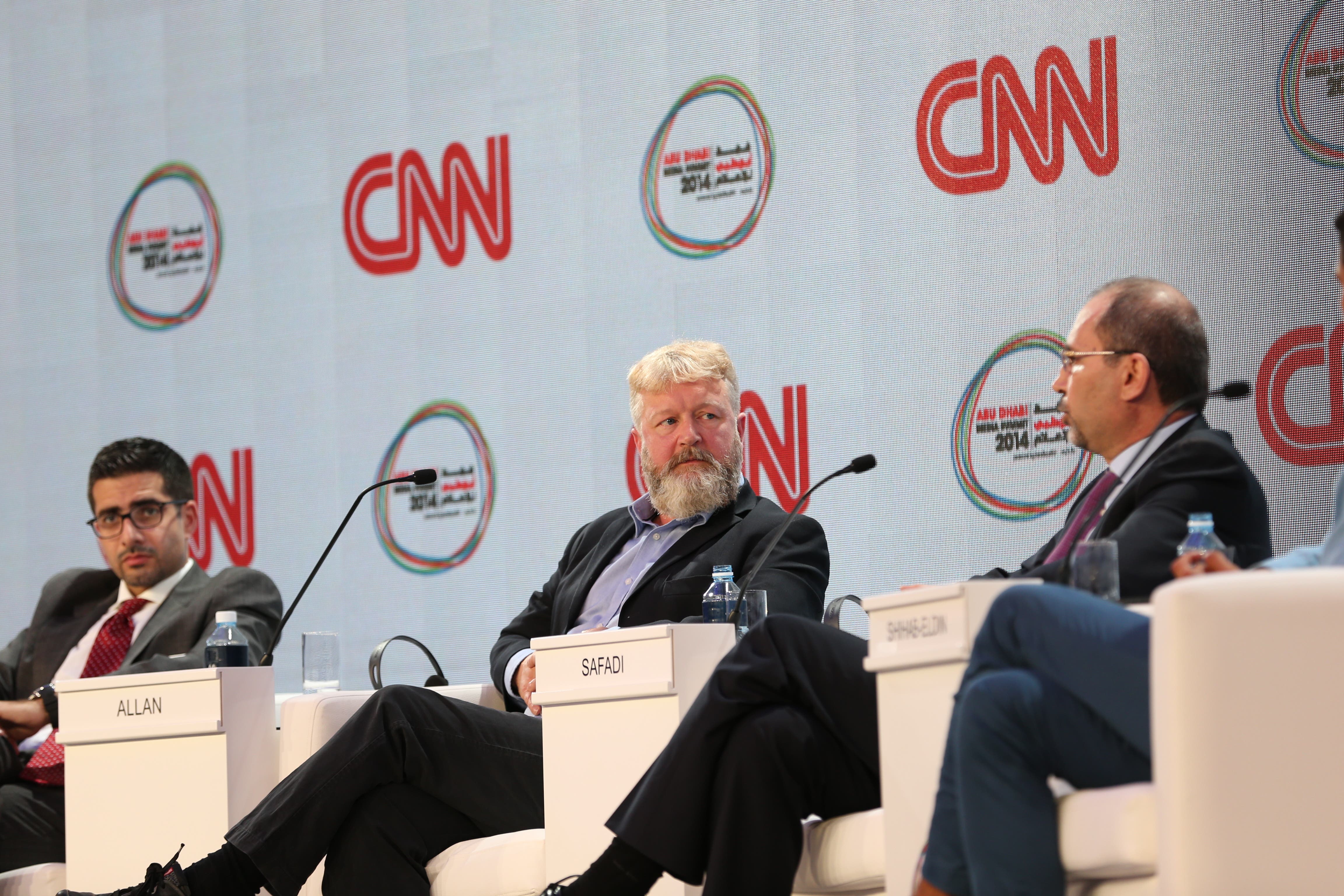 Safadi said social media sites are "beyond control", and called for more regulation on content posted by users.

"We do need to impose a higher degree of regulation to [prevent] some of the material that is teaching people how to kill," he said.

"There was a time when social media was seen as a great blessing, which opened horizons and allowed communication. Lately, particularly in the region, it has been more of a curse, simply because we are at war with extremist groups… that have been very savvy in their use of these platforms."
Commenting on whether social media sites are a blessing or a curse, Faisal J. Abbas said people should "accept that it is both."
"We have seen how social media has gone from being the hero of the Arab spring to a tool used by extremist terrorist groups such as ISIS," Abbas said.
"Extremists were always the first to condemn technology and always end up being the people using it the best out of everybody," said Abbas.
He gave the example of extremists condemning the use of satellite television in the 90s, but subsequently setting up their own satellite networks through which some incited "hatred and crimes."
History is repeating itself in regard to "terrorist propaganda" being spread via social media, he added.
"In a very ironic way they are using democratic values and guidelines for undemocratic means," he said.
But blogger and journalist Ahmed Shihab-Eldin said that social media sites are simply "a reflection of our humanity" and greater regulations are "arbitrary and not possible."
"To put the burden on Facebook or Twitter or any of these social organisations to regulate is very tricky," said Shihab-Eldin.
"What social media has accomplished hasn't caused these revolutions, but it has forever changed the way in which we understand our differences, our similarities, [and] our commonalities."
"It has enabled us to tell our own stories particularly in a region where we have been misrepresented, where certain stories are taboo, where self-censorship has been on the rise, where authoritarianism has been on the rise for decades."
Answering a survey question of whether social media should be regulated, 64 percent of the ADMS audience said they "disagree", while 30 percent said they "strongly disagree" with such measures.