'Press freedom advocate' killed in Baghdad bombing
The interior ministry described Shahbander, who was the director for the Institute for War and Peace Reporting (IWPR), as a 'martyr of the Iraqi press'
The Iraqi government and social media users mourned the killing of Ammar al-Shahbander in the Iraqi capital Baghdad after a late Saturday bombing, claimed by the Islamic State of Iraq and Syria (ISIS) group, which left 15 people dead.
The interior ministry described Shahbander, who was the director for the Institute for War and Peace Reporting (IWPR), as a "martyr of the Iraqi press."
British-educated Shahbander was responsible for IWPR activities in Iraq and neighboring Syria, and was in charge of a program to set up a new media institute in Iraq.
Shahbander, who was born in 1976, was leaving a cafe in Karrada when the explosion happened, his friends said.

"Devastating news from Iraq where press freedom advocate Ammar al-Shahbander for IWPR was killed yesterday," Agnes Callamard, Director of the Global Freedom of Expression and Information Project at Columbia University, said in a tweet.
Nickolay E. Mladenov, who has been U.N. envoy in Iraq since 2013 and now is the international body's Special Coordinator for the Middle East peace process, said: "Rest in peace Ammar al Shahbander. Terrorists can kill, but can not break Iraq, its people will prevail."
A veteran Middle East journalist, Shahbander was also mourned by Brett McGurk, U.S. President Barack Obama's deputy envoy for the coalition fighting ISIS in Syria and Iraq.
"Tonight in #Baghdad, terrorists took the life of my friend... They will never silence his spirit, or that of the Iraqi people," McGurk tweeted late Saturday.

The Iraqi National Symphony Orchestra's main conductor, Karim Wasfi, dedicated yet another musical piece to his friend Shahbander as he played his cello in Karrada.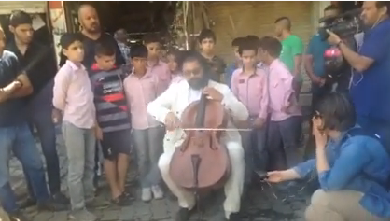 Wasfi made headlines and created social media buzz when he played his cello on April 28 at a bombsite where a blast the night before claimed nine lives in another Baghdad district called al-Mansour.

(With AFP)