Shooting of Pakistan's Malala depicted in controversial ad
The print ad - which is for bedding company Kurl-On - shows Malala Yousafzai being shot
An Indian advertising agency's use of cartoon drawings to depict the shooting of Pakistani teenager Malala Yousafzai has sparked outrage by users of social media site Twitter.
The print ad - which is for bedding company Kurl-On - shows Yousafzai being shot, falling downwards towards a mattress, but then rising up from it as a celebrated activist.
Kurl-On had commissioned their advertising to an Indian branch of renowned ad firm Ogilvy & Mather, who posted the advertisement on archive site Ads of the World. The page has since been deleted.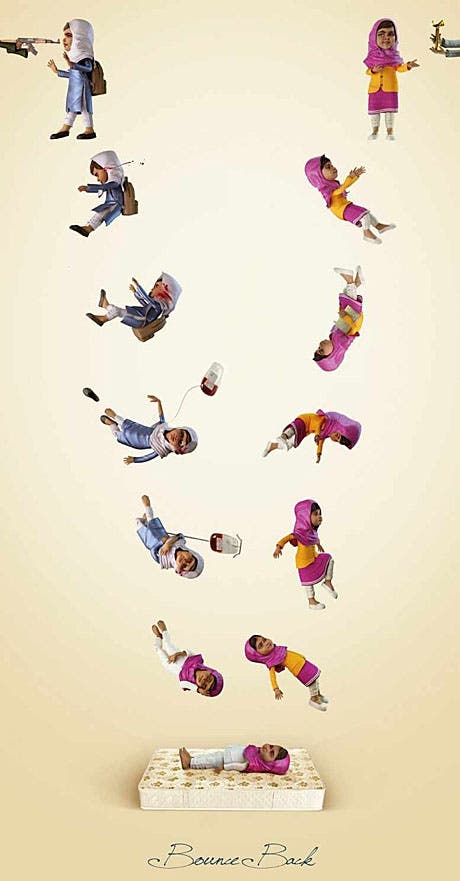 The other two posters produced by the firm follow the same theme, portraying Mahatma Ghandi leaving as a barrister, and reemerging as a peace activist, and Steve Jobs' departure from computing giant Apple, before returning to lead it to global dominance.
Twitter users were quick to voice their disapproval at the ad.
"Just had to pick my jaw off my desk at the news Malala Yousafzai's image is being used for a mattress advert. Beyond words," wrote one user.
"I don't care how you feel about Malala. Don't use her for a mattress ad," wrote another.
In a blog article about the poster, Canadian advertising executive Tom Megginson called the work "inappropriate" and "shameful."
"14-year-olds getting shot in the face by terrorists are appropriate content for mattress ads now?" Megginson wrote in a comment on the page.
"I am ashamed to be in the same industry as these ad people," he added.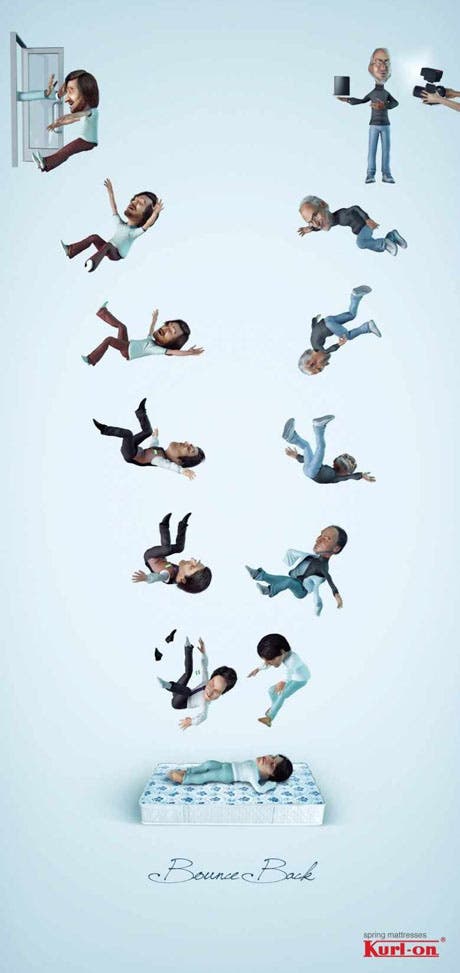 A person claiming to be a representative of Ogilvy defended the controversial artwork displayed on the Ads of the World website, and tried to justify it.
"We do not believe that getting shot in the face was the defining moment in this brave young 14-year-old's life - it was her courage and determination to rise from hopeless circumstances," the message said.
"We believe that her's is a breathtakingly inspiring story and while all of us do not have the raw courage or moral fiber to do what she did, we can try to pay a tribute to her by any means available to us. "
"In this case, the means happened to be an advertising campaign. If we were architects, we would erect a monument in her honor," the Daily Mail quoted the self-claimed representative's statements.
The advert has been now removed from the Ads of the World website, and the agency has apologized for the production.
"The recent Kurl-On ads from our India office are contrary to the beliefs and professional standards of Ogilvy & Mather and our clients," Ogilvy & Mather's India spokesman Greg Carton was quoted by the Daily Mail as saying.
"We deeply regret this incident and want to personally apologize to Malala Yousafzai and her family," he added.The company also announced that it launched an investigation into how its standards were compromised.
In 2012, Yousafzai - a youthful women's education activist - was shot by Taliban gunmen at the age of 14. Her near-death experience made international headlines, and she returned after her recovery to become a globally celebrated figure for her cause.