Facebook: 10 years young in the Arab world
A decade after the website launched from Mark Zuckerberg's dorm room, Middle East experts play down fears it is past its prime
Today marks Facebook's 10th birthday – and despite fears the writing is on the wall for the social network, Middle East experts say its status updates will only get stronger.
Facebook gained much of its regional prominence during the Arab Spring, so much so that it is sometimes incorrectly credited with having triggered the uprisings, rather than being a tool used by protesters.
The site now has about 56 million active users in the Middle East and North Africa, amid rising membership worldwide.
Yet despite its prominence in the Middle East, on a global level there is much speculation that the world's biggest social is already past its prime, just 10 years after it was launched from Mark Zuckerberg's Harvard University dorm room.
READ MORE: What Arabs 'like': Mideast's top five Facebook moments
Various reports suggest the site is losing popularity among teens as more parents join up, while researchers at Princeton – who likened Facebook to an infectious disease – suggested the site would lose 80 percent of its "peak user base" within three years.
Professor Daniel Miller of University College London has concluded from an EU-funded study on social media conducted in eight countries that Facebook is already "dead."
"What we've learned from working with 16-18 year olds in the UK is that Facebook is not just on the slide, it is basically dead and buried. Mostly they feel embarrassed even to be associated with it," Miller said.
He said the "death" of Facebook is due to the advent of four new contenders: Twitter, Instagram, Snapchat and WhatsApp.
Yet social media experts say Facebook is in rude health in the Middle East, and expect its user base to grow exponentially.
READ MORE: What Arabs 'like': Mideast's top five Facebook moments
"The number of users in the Arab world will easily double in the next five years," said Sultan Sooud Al-Qassemi, a UAE-based writer and influential figure on social media.
"You have only seen the first wave of Facebook use in the Arab world. You're going to see a second, third and fourth wave… There's no way Facebook is over here."
Qassemi said there was "huge scope" for further growth in Facebook use in the Arab world, especially in countries such as Iraq, Syria, Iran, Algeria and Yemen. The Emirati commentator himself has over 8,000 followers on Facebook, and more than 271,000 on Twitter.
Harris Breslow, Associate Professor in the Department of Mass Communication at the American University of Sharjah, agreed that Facebook was a force to be reckoned with.
"Reports of Facebook's demise are overstated," he said.
After such frenetic global growth, it was inevitable that the growth in Facebook users may slow in some markets, Breslow said. "It becomes much more difficult to sustain continuous high rates of growth," he said.
The site's legacies in the Middle East region include being a low-cost way to communicate as well as its use during the Arab Spring, Breslow said. But, he said, Facebook was merely a tool in the uprisings – not a cause of them.
"Facebook did not lead the Arab Spring, nor did it spark the Arab Spring," the academic said. "There's an image of social media leading the way. But when you take a look at internet penetration in North Africa particularly, you can see that that could not have been the case."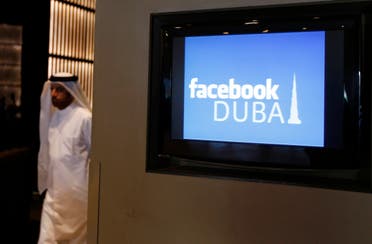 Positive force?
So has Facebook been a positive force in the Arab world over the last ten years?
Social media has been credited with everything from aiding the Arab Spring to increasing divorce rates in countries such as the United Arab Emirates due to "addiction" to social media.
Qassemi said the question was "a two-edged sword" in terms of the regional uprisings.
"On one hand it's a tool that activists use to connect with each other. On the other hard it's used by the governments to get information about the activists," he said.
The commentator likened Facebook to a virtual battlefield for revolutionaries and government forces. "It's an arena for a cat-and-mouse game between activists and the government," he said.
He added that Facebook is a positive "arena" for discussion, pointing to a fierce debate on Syria between academics Joshua Landis and Robin Yassin-Kassab, which has attracted hundreds of comments.
"It's a common ground… It allows you the freedom of expressing yourself at length," he said.
READ MORE: What Arabs 'like': Mideast's top five Facebook moments
Joe Khalil, an associate professor in residence at Northwestern University and visiting research fellow at the London School of Economics, said that Facebook's ability to network across national boundaries had "benefited the region" as a whole.
"I think Facebook was to the Arab individual what satellite television was to the Arabs as a community. If satellite television paved the way for Arabs to know about the lives of other Arabs, Facebook allowed Arab individuals to discover that their individuality, their dreams and aspirations were shared by others," he said.
"If satellite television spoke to us as Arabs across the Arab world, Facebook gave us a platform to speak to one another bypassing states and/or corporate interests," Khalil added.
Analysts said that Facebook and Twitter had not seen much rivalry from homegrown Middle Eastern sites, despite the launch of regional networks like AreebaAreeba, a UAE-based social networking site.
"So far, there doesn't seem to be any convincing rivals," said Matthew Reed, principal analyst at Informa Telecoms & Media in Dubai. "Twitter and Facebook fairly early on enabled their platforms for Arabic, so there wasn't a language barrier in that sense."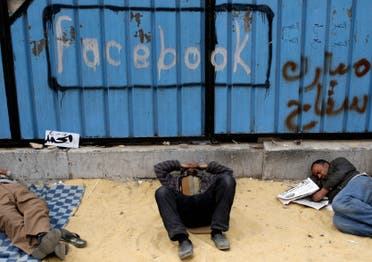 But as Facebook blows out the candles on its 10th birthday cake, the question remains as to whether it will remain dominant over the next decade.
Breslow was generally confident the site would survive, but only if it diversifies to have many different functions and uses.
"If I were to pick any site that will have a 20th birthday, it's Facebook," he said. "In 10 years, what we might have is not one Facebook, but many Facebook channels."
FACEBOOK FACTS
Globally, Facebook claims 1.228 billion monthly active users, a 16 percent rise on a year ago, with the majority now accessing Facebook on their mobile phones as well as laptops.
"The daily active numbers are particularly positive because they show not only that people use Facebook once a month, but that almost two thirds of people come back daily," Iain Mackenzie, Pan-Euro Communications Manager at Facebook, told Al Arabiya News. He was quoting figures released last week.
Monthly Active Users: 1.228bn – up 16% Year on Year.
Mobile Monthly Active Users: 945m – up 38% Year on Year
Daily Active Users: 757m – up 22% Year on Year
Mobile Daily Actuve Users: 556m – up 48% Year on Year
Friend connections: 201.6bn
Likes per day: 6 billion
Employees worldwide: 6,337