Turkey deports journalist for criticizing Erdogan
Mahir Zeynalovin was also barred from entering Turkey after anti-govt tweets
Mahir Zeynalov, a Turkey-based online editor at Today Zaman and a contributing columnist in Al Arabiya News, was deported on Friday to his native country of Azerbaijan after criticizing Prime Minister Recep Tayyip Erdogan on Twitter.
Zeynalov told Al Arabiya News that the decision to deport him came weeks after a smear campaign against him both on social media and the pro-government media, with "many of them vowing that I will be deported."
"The notice to deport says my residence permit expires last month whereas I have a legal right to stay in Turkey until March 10. I am also married to a Turkish citizen, which gives me a permission to stay and work in Turkey," Zeynalov added in an email statement after he left Turkey.
"My deportation as a journalist and as someone who is married to a Turkish citizen constitutes the apex of what the government of Erdogan can do. This also will seriously damages Ankara's international reputation -- something Turkey might not care at a time of a graft scandal," Zeynalov wrote.
Al Arabiya News contacted Turkey's information and foreign ministries for comment about Zeynalovin deportation but no official was immediately available for comment.
Pictures of him being escorted by a police officer at Istanbul's Ataturk airport were posted on Twitter.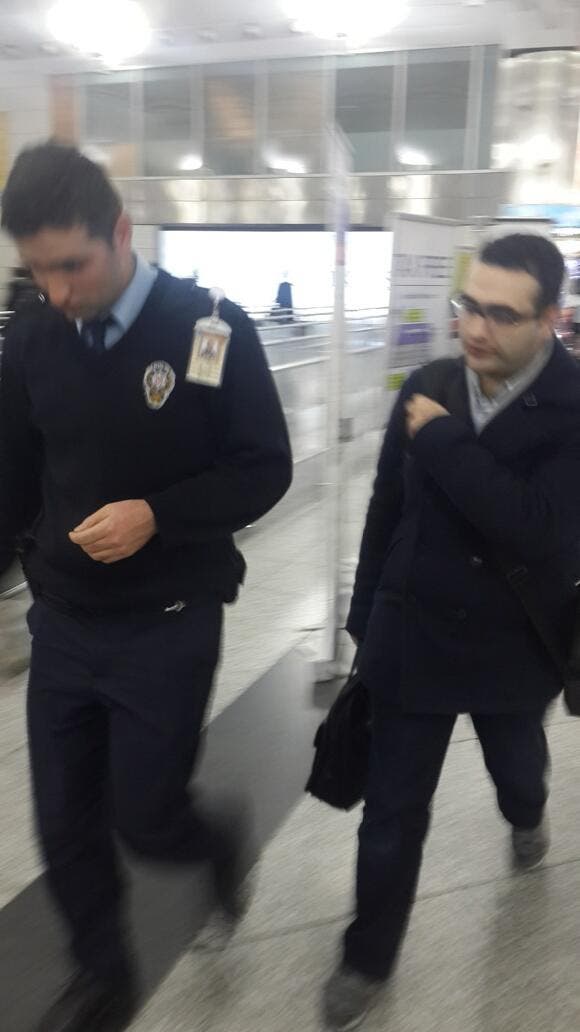 Read a list of Mahir Zeynalov's articles columns here
Today Zaman reported that Zeynalov's name was put on a list of foreign journalists barred from entering Turkey for "posting tweets against high-level state officials." Deputy Police Director Ali Baştürk reportedly signed the deportation decision on behalf of the interior minister.
The daily added that the deportation resulted from a claim by the Prime Ministry's Coordination Center (BİMER) that "statements contrary to the facts" were being made on Zeynalov's Twitter account @mahirzeynalov.
"This is part of Erdogan's increasingly intolerant treatment of media and this troubling intention to crush dissent spread to the Internet," Zeynalov said.
"My deportation comes a day after the Turkish Parliament adopted a draconian Internet bill, which significantly limits freedom of Internet," he told Al Arabiya News.
The journalist was already facing criminal charges brought against him by the prime minister after posting tweets on Dec. 25, 2013 about the massive graft scandal that shook the country.
"Erdoğan says the tweets included "heavy insults and swear words in a bid to provoke the nation to hatred and animosity," according to Today Zaman.
Zeynalov had made tweets with links to articles about the government's restrictions on an investigation into a second mass corruption scandal. That restriction included obstruction of a raid targeting 40 suspects, including Saudi Businessman Yasin al-Qadi who was until recently on terrorism lists of several Western countries.
"Turkish prosecutors order police to arrest al-Qaeda affiliates, Erdoğan's appointed police chiefs refuse to comply," one tweet of Zeynalov read. In another tweet, he shared a news report about "al-Qaeda suspects" fleeing Turkey after the failure by Erdogan's government to arrest them.
"This is an utterly despotic and arbitrary decision," Bulent Kenes, editor in chief of Today's Zaman, told Reuters. "We don't see it as an attack against our paper, it's an attempt to intimidate all foreign journalists working in Turkey."
The Organization for Security and Co-operation in Europe (OSCE) described Zeynalov's deportation "for tweets considered inappropriate by the authorities" as a further setback for democracy in Turkey.
"Freedom of expression does not stop at statements deemed proper by those in power, and limiting this right will further tighten the control of media in Turkey," Dunja Mijatovic, OSCE representative on freedom of the media, told Reuters.
Zeynalov's deportation came a day after the Turkish parliament passed a legislation allowing the government to block websites within hours in what critics say is a move to stifle freedom of expression and limit the upshots of the ongoing corruption scandal.
Social media and video sharing websites have been filled with alleged recordings implicating Turkish government officials, including Prime Minister Erdogan, and affiliated businessmen in the corruption scandal.
In one of those recordings, posted on the file-sharing website SoundCloud, Erdogan could be heard discussing easing zoning laws for top businessman Mustafa Latif Topbaş.
Topbaş wanted to build a number of villas in İzmir Province but he could not obtain a construction permit because the area was a first-degree environmentally protected zone.
Erdogan could be heard agreeing to change the zone to a third-degree protected zone in exchange for two villas.
Shortly after the recording went public, SoundCloud was shut down in Turkey.