Twitter hopes service restored soon in Turkey
The social media service published a tweet to Turkish users instructing them on how to continue tweeting via SMS
Turkey accused Twitter on Saturday of being "biased" and of a "systematic character assassination" of the country's prime minister, a day after the government blocked the social media network in the country.
However, a government official said talks with Twitter to on resolving the problems that led to the block were positive, a government official told Reuters.
Twitter Inc. said on Friday it hopes access to its service in Turkey will soon be restored after it was blocked by the country's government.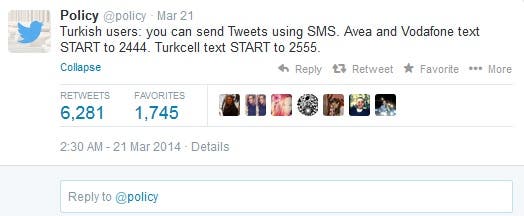 The social media service has said it stands with users in Turkey and published a tweet to Turkish users instructing them on how to continue tweeting via SMS text message.
Reuters news agency reported that a Twitter spokesman declined whether it would appoint someone in Turkey but said it was moving forward in talks with the government.
The ban has been seen as the latest effort by the Turkish government to supress critical comments as Twitter is one of the most popular communications channels in Turkey.
Twitter went dark in Turkey late Thursday, just hours after Prime Minister Recep Tayyip Erdogan threatened to "wipe out" the social network - one of several highlighting corruption allegations in his inner circle.
Opposition media outlets said the block was implemented by Erdogan's government, after the prime minister told a rally he would eradicate Twitter access in the country.
The state-run Anatolia news agency said authorities "technically blocked access to Twitter" because the service had ignored various Turkish court orders to remove some links.
On Friday, outraged Turkish users took to Twitter, mocking the ban by circumventing the restrictions through virtual private networks and text messages.
Analysts and observers said they were not immediately concerned that the ban in Turkey could embolden other governments to follow suit and clamp down on Twitter. But the company's easy-to-use communications service and its long-running support of free speech have made it a visible target for some governments.
While Twitter has earned the ire of other governments, Turkey's move to ban Twitter is particularly noteworthy, Jillian York, director for international freedom of expression at the Electronic Frontier Foundation told Reuters.
"It's a democracy, that's the difference. This is a country that actually has legitimate elections," said York. "That could set a dangerous precedent."
"I do think there's a risk democracies could do this," she added. "I don't think most would go so far as (banning) the entire site. I think instead what we'll see is more pressure being put on Twitter to block certain content."
Wall Street remains more focused on Twitter's overall growth prospects and its budding advertising business, with Twitter's stock finishing Friday's regular trading session up 1.6 percent at $50.92 despite the situation in Turkey.
Because of its nature as a public, broadcast medium and its viral network model, where information (or rumors) can spread exponentially through "retweets," Twitter has been viewed as a particularly destabilizing force.
The Turkish government had in recent weeks asked Google Inc. to block certain videos on YouTube but the Internet company has rejected its requests, the Wall Street Journal cited people familiar with the matter as saying.
YouTube remained online on Friday but some within Google feared an imminent blackout in the wake of Twitter's ban, the Journal cited the people as saying.
Presidential opposition
Turkish newspaper Sabah reported quoted sources as saying that said that Twitter has begun a search to acquire a legal representative since the company does not have an office based in the country. Attorney Gonenc Gurkaynak, who previously represented video-sharing giant YouTube, is said to have made a deal to represent the site.
Earlier on Thursday, President Abdullah Gul, a political ally of Erdogan, evaded the ban to tweet that the "shutdown was unacceptable."
"A complete ban on social media platforms cannot be approved," tweeted the president to his more than four million followers, Reuters reported.
Gul, a frequent user of social media, said it was not "technically possible to totally block access to platforms used all over the world."
Meanwhile, U.S. State Department spokeswoman Jen Psaki said the order to prevent Turks from accessing the U.S. firm's micro-blogging site was "contrary to Turkey's desire to be a model of democracy."
France on Friday also condemned Turkey's "shocking" decision to shut down Twitter and said the aspiring EU member had to respect freedom of expression and other basic rights.
"This shocking decision of the Turkish government runs contrary to the freedom of expression and communication which are fundamental principles," said French foreign ministry spokesman Romain Nadal, according to Agence France-Presse.
(With Reuters and AFP)