'Vote for the blood Ba'ath': Tweeps mock Syria poll
Tweeps are coming up with 'grim' catch lines for incumbent President Assad's possible campaign
The Syrian government this week announced that presidential elections will go ahead in the war torn country. The United Nations slammed the decision, as did many Twitter users, tweeting sardonic slogans the incumbent president could use during the election campaign, using the hashtag #AssadCampaignSlogans.
President Bashar al-Assad, whose term ends July 17, has all but said he will stand in the June 3 vote, as many Tweeps proposed "grim" catch lines for use in his possible campaign.
"Putting 'laughter' in 'manslaughter' since 2011," wrote one Twitter user.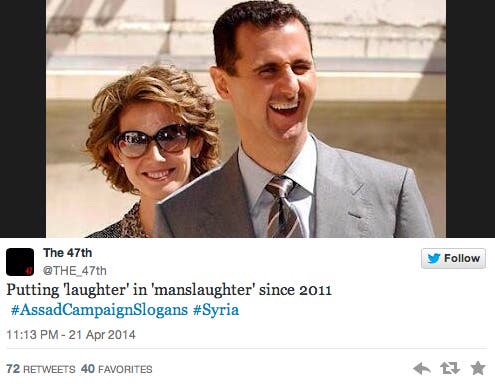 Another tweeted: "Because Syria can't barrel bomb itself," referring to the air force's purported use of barrel bombs on the cities of Aleppo and Homs.

More than 100,000 people have died in the conflict, according to U.N. figures, while 2,657,102 Syrians have registered as refugees, living outside the country.
Highlighting the number of deaths, one Tweep wrote: "Vote for the blood Ba'ath," referring to the political Ba'ath party from which Assad hails.

Also, Twitter user Murtaza Hussain tweeted, "Harnessing chemicals to build a brighter future," recalling the chemical weapons attack in August on a Damascus suburb.

"My family has megatons of experience," tweeted another user.
A related tweet, not using the #AssadCampaignSlogans hashtag, had an attached image of President Assad in various guises, along with the line "The new presidential candidates in #Syria."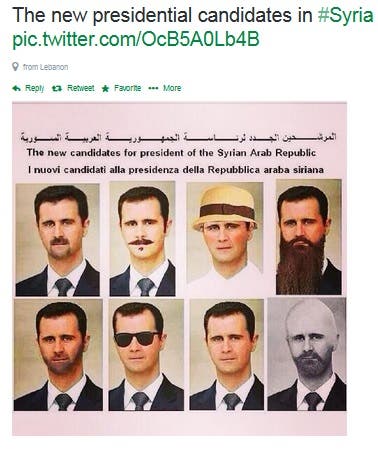 A law adopted by parliament this year requires candidates to have lived in Syria for the past 10 years, thereby excluding the exiled Western and Arab-backed opposition, and leading some critics to suggest that Assad will run without strong opposition.
"For journalists, activists, and observers of the Syrian war (many of whom can remember Assad getting 97 percent in a 2007 election), it's a grim yet ridiculous moment," wrote Adam Taylor for the Washington Post.
The election is set to be held, even though an estimated 40 percent of Syrians have been displaced from their homes.