Israeli media digs up old Saudi fatwa stating football is 'haram'
The 2013 Fatwa by Saudi cleric al-Barrak proclaims football as an abomination that causes people to waste their time
As global media turn to Brazil vying for the coverage of the world's biggest sporting event, Israeli media looked to Saudi Arabia, digging up a year-old story about an outlandish fatwa by a hardline cleric that claims to ban football.
The Middle East Media Research Institute (MEMRI) – cofounded in 1998 by former Israeli military intelligence officer Yigal Carmon and Meyrav Wurmser an Israeli-born, American political scientist – published on Wednesday a translation of a statement by Saudi cleric Sheikh Abd Al-Rahman al-Barrak.
The statement "proclaimed that football is an abomination that causes people to waste their time, to adopt the depraved customs of the enemies of Islam, and to glorify "infidel" football players."
According to MEMRI's translation, Sheikh al-Barrak "issued the fatwa in response to a query by a reader on his website (albarrak.islamlight.net), who wondered how to react to football fans who admire and praise foreign football players."
However MEMRI failed to clearly indicate that the fatwa dates back to March 2013 and to clarify why it was publishing a story about it now, given that the statement is more than a year old.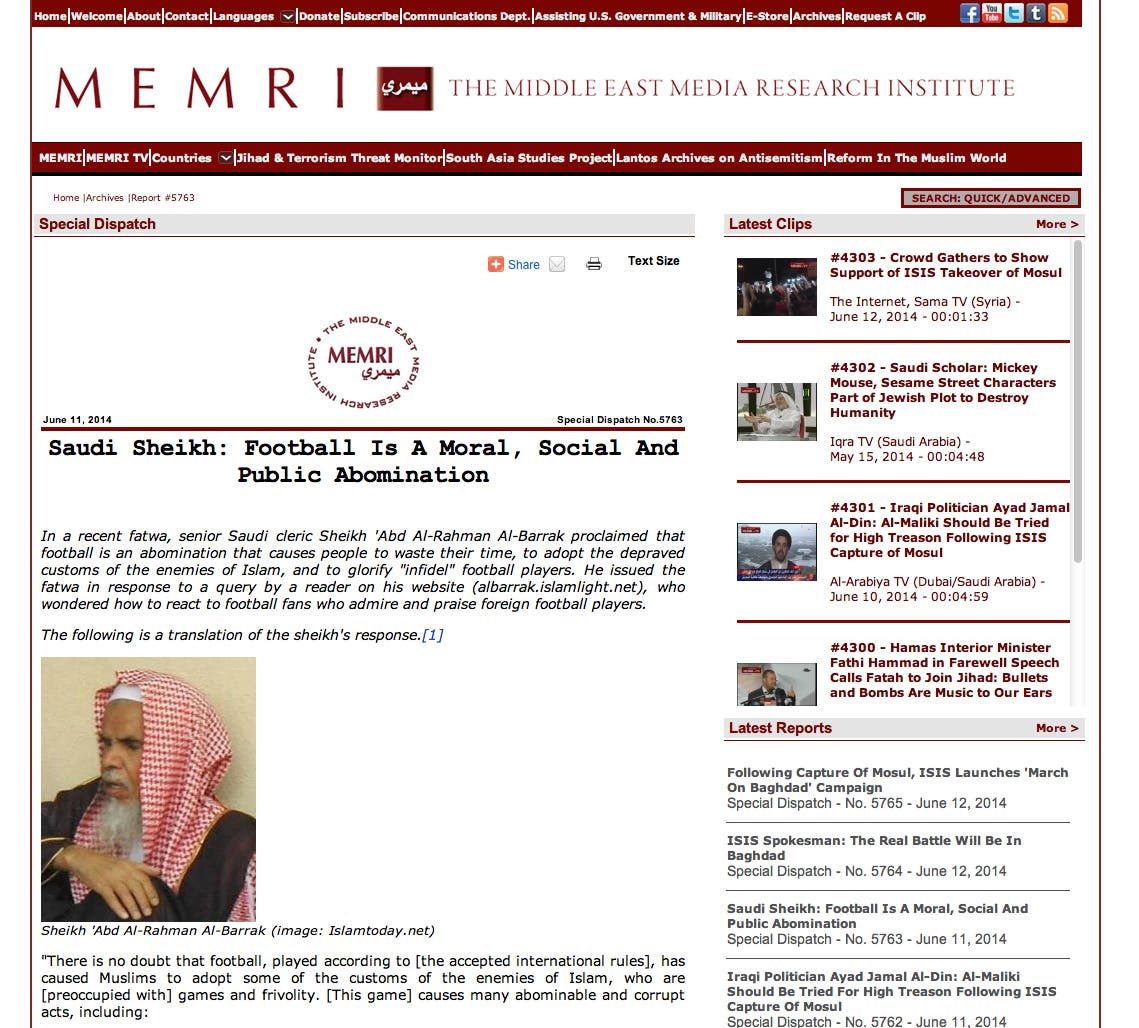 Israel-based The Jerusalem Post was quick to pick up the story writing: "The World Cup that kicks off in Brazil on Thursday evening, but not everyone is excited."
"In a recent fatwa, Saudi cleric Sheikh 'Abd Al-Rahman Al-Barrak wrote that the game of soccer is a moral and social abomination."
The Jerusalem Post, as well as several other newspapers and media outlets, appeared to have rejigged MEMRI's version of the story, without doing additional research online or clarying the original date of the fatwa.
It is not unusual for hard-line religious clerics in Saudi Arabia and elsewhere in the Muslim world to issue bizzar fatwas about different topics. Such Fatwas usually become the subject of media coverage and heated public debate as many Muslims tend to ridicule and criticize them extensively.
However, MEMRI's report failed to mention the criticism despite that leading Saudi public figures, such as former Saudi footbaler, Faisal Abu-Ithneen, came out publically condemning the Sheikh and his fatwa.
Throughout his years as a cleric, Sheikh al-Barrak has regularly caused controversy, such as in 2010 when he called upon those who support gender-mixing to be killed. A fatwa that was actually condemned by a large number of clerics in Saudi Arabia and other countries; perhaps most prominently by the likes of Abdul Hamid al-Atrash, the former leading authority at Cairo's Al-Azhar University, who reportedly labeled the edict as an 'extremist's interpretation of Islam'.