Twitter, Al Arabiya partner in Ramadan to provide worldwide Iftar times
Tweet @AlArabiya_Eng with #iftar followed by hashtagging the name of your city
Twitter has partnered with Al Arabiya News Channel to better inform tweeps about Ramadan meal and fasting timings across the world.
The time of Iftar - the breaking of fast, and Imsak – the beginning of fast can be accessed on Twitter by tweeting @AlArabiya_Eng.
Starting on Saturday, tweet @AlArabiya_Eng with #iftar followed by hashtagging the name of your city (e.g. @AlArabiya_Eng #Iftar #Dubai), and the @AlArabiya_Eng account will send you the time for #iftar.
The same inquiry method will work for #imsak as well.
Ramadan, the ninth month of the Hijri (Islamic) calendar, is observed by millions of Muslims around the world. Observers abstain from consuming all kinds of edibles and drinkables – from sunrise to sunset – for the duration of the month.
They are also required to abstain from smoking and having sex.
Twitter has released an interactive map which shows the Ramadan-linked conversations that took place during Ramadan 2013.
Following "74.2 million tweets about Ramadan" last year, Twitter has also introduced Ramadan and Eid icons to the social media platform.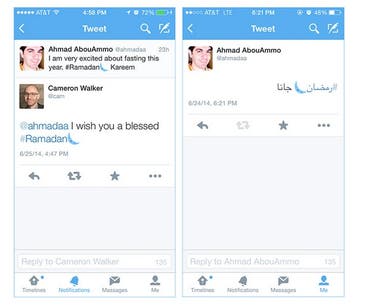 "Use a hashtag (#) immediately in front of the words Ramadan and Eid (in both Arabic and English), and these special icons will appear after those words," Twitter declared on its blog.
Ramadan is known for its numerous get-togethers with friends and family, who come together to celebrate the holy month.
Ramadan is also known to be a high-season for TV productions, during which numerous high-budget dramas and soap operas are released across almost all Arab channels.