Is social media good or bad for young people?
Is it possible that many of the questions are driven just as much by cultural fear as by intellectual curiosity?
If the million-dollar question is whether social media is good or bad, the more fraught, scientifically researched billion-dollar question is rather: is social media good or bad for young people?
There are new reports almost daily detailing the "extreme" usage of social media by the generation that the Kaiser Family Foundation, the health-policy think tank, notoriously named M2: children whose lives revolve around media consumption.
Kaiser's 2010 report, a study on media in the lives of young people between the ages of eight and 18, ignited a firestorm of worries about the amount young people consume, with social media being the newest and fastest-growing medium. With teens consuming more than 7-12 hours of media a day, Nielsen found in 2011 that social networks were the most visited sites on the web. And in 2014, Browser Media, Socialnomics, MacWorld discovered that nearly a quarter of all teens log on to Facebook over 10 times a day. Slowly but surely, the research is confirming what we know to be true anecdotally: young people love social media.
The American Academy of Pediatrics' Council on Communications and Media was founded in 2007 to study this very phenomenon, recognizing that social media platforms in particular relate in some way to nearly every health concern that pediatricians have about young people (body image, learning disorders, sexual behavior, aggression, etc). But the council itself calls its study "an uncontrolled experiment".
And uncontrolled experiments often deliver inconclusive results. Being unable to make definitive statements on the psychological and physiological impact of social media, their work in that space has thus far focused on encouraging "healthy use" and urging parents to monitor for common behavioral problems like cyberbullying and exposure to inappropriate content.
Craving connections
While we certainly know a little about how the brain processes information and how humans crave certain connections, there are few morally objective, conclusive or instructive results about the impact of the new media landscape on the brain. Behavioral science has a long way to go in really understanding the impact of social media on young minds and whether it is good or bad. But that hasn't stopped the media, parents and governments all across the world from asking the question anyway.
Is it possible that many of the questions are driven just as much by cultural fear as by intellectual curiosity?
In a world where most social systems involve some form of dominance or paternalism, limiting the power of young people seems to be a universally shared value. Whether out of protection and love, or out of oppression and control, societies seek to curb the behavior of their young. Any tool that exponentially increases the power of young people is almost always seen as inherently dangerous. Thus, social media is as scary as it gets.
There is great fear of what it means for young people to wield this power in a personal, economic and political frame.
In a personal frame, there are countless examples of young people using social media in ways that demonstrate their lack of emotional and psychological maturity, sometimes to their own detriment or the detriment of others. In an economic frame, young people have the power to engage directly with brands, making them more powerful consumers, yet also more vulnerable to corporate messaging and overreach. And a key narrative that has arisen out of many major political moments in recent history (from Barack Obama's election to the uprisings in the Arab world) has been about the power that young people exercised using social media. It is in this space between empowerment and protection, freedom and restriction that the greatest questions about social media and young people lie.
The opportunities and risks in each of these contexts are many. The challenge then is for society at large to hone its ability to effectively evaluate which restraints and restrictions, with regards to young people and social media, are essential to their healthy growth and development based on current information and which are created to maintain unnecessary and sometimes negative systems of control. These are the hard questions that those outside of the scientific community must grapple with.
As for the science, the jury is still out and will likely be out a very long time, on whether there is a measurable net gain or loss in the development of young people's brains, behaviour and life skills as a result of social media. But what we do know is that the increased access to power is having just as much of a dramatic impact on the world around them as it is their own young minds.
Is social media good or bad for young people?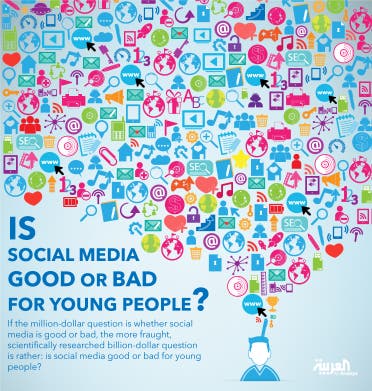 Part of a series on the top 10 trends in social media.
This article was first published in the World Economic Forum blog on June 27, 2014.
_________
Erica Williams Simon is chief executive officer and social impact strategist, EWS Strategies, and a member of the Global Agenda Council on Social Media. She is also a curator for Upworthy.com.