'Did the Caliph come on a horse'? Baghdadi mocked on Twitter
Baghdadi created of himself a subject of global mockery on social media
'Did the Caliph come on a horse'? was just one of the comments lampooining the self-proclaimed "caliph" Abu Bakr al-Baghdadi after a video of the head of the Islamic State of Iraq and Syria (ISIS) was released showing the man giving a sermon on Friday.
"Why is he using a microphone invented by non-Sunnis! – Isis leader leading prayers at Mosul mosque," tweeted popular Arab affairs commentator Sultan Sooud al-Qassemi.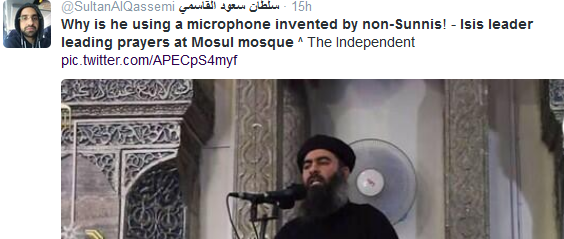 To shave or not to shave
"Riddle.. Is it permissible to shave the beard and mustache before the caliphate succession and then grow them after?.. The prize.. a state from Mosul to Baghdad," @massaaed tweeted from Saudi Arabia.

Karl Sharro, @KarlreMarks, a blogger and writer on Iraqi politics meanwhile said on Twitter: "The Caliph with one of his fans, hoho," adding a picture of Baghdadi during his sermon, with a fan behind him.
"Amir al-Muminin [commander of the faithful] 2014 says 'I've been appointed upon you but I am not your best' take it easy on us J he think he is Abu Bakr al-Siddiq [a companion of Prophet Mohammad (pbuh)] ," tweeted @A_alkhulaify.

"This is the sermon of Baghdadi, but they didn't tell us whether he came on a horse or a Hilux Double Cab, let alone the rest of his act, is it even possible," wrote Mohammad Al al-Sheikh @alshaikhmhmd, a popular Saudi writer.

The video was released on at least two websites known to be linked to the group, but it was not possible to independently verify whether the person shown was indeed the group's leader. It bore the logo of al-Furqan, the group's media arm, Associated Press reported.
The video is the first ever official appearance by Baghdadi, according to Aymenn al-Tamimi, an expert on Islamist movements, though the jihadist leader may have appeared in a 2008 video under a different name, APF reported.