Should Twitter take down ISIS-affiliated accounts?
Extremist group supporters boasting alleged acts with grotesque images on Twitter
As Islamic State in Iraq and Syria (ISIS) militants continue to wreak havoc across northern Iraq, the group, or members associated with it, has made sure to broadcast its 'activities' on social media.

One twitter account, believed to belong to a user linked to the extremist group, has garnered attention as it continues to post content ranging from media reports to bloodied bags filled with severed heads.

Iraq al-Farouq Omar (@aws_fasfas) has posted photos of beheadings, going as far as before and after pictures.

While it is not clear whether or not an individual operates the account, it is clearly dedicated to ISIS.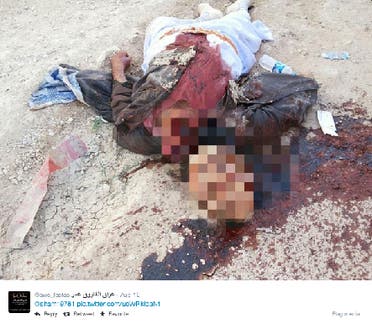 Should Twitter step in?
Twitter publication policy states "users may not make direct, specific threats of violence against others, including threats against a person or group on the basis of race, ethnicity, national origin, religion."

The terms further explain that while the company has no obligation to remove content that violates its policy, it retains the right to remove it.

The Iraq al-Farouq Omar account has tweeted threatening "non-believers" with slaughter, and posted several photos of members of the Yazidi community calling them "devil-worshippers."
Whether or not content posted by @aws_fasfas would violate these terms, is unclear as Twitter declined to comment citing "privacy and security purposes."

Analysts have voiced mixed opinions on whether or not social media companies should bear responsibility for such content.

Abeer Najjar, a professor of mass communication at the American University of Sharjah, said tweets like this should not be banned as long as the material does not violate international law.
Companies however are ethically obliged to "warn users of any graphic material or strong language and should find a mechanism to check the users before being able to access similar content," she told Al Arabiya News.

David Mack, a senior scholar at the US- based Middle East Institute, said while the First Amendment in the constitution of the United States upholds the right to free speech, he "disapprove[s] of corporations allowing themselves to be used for the dissemination of such material."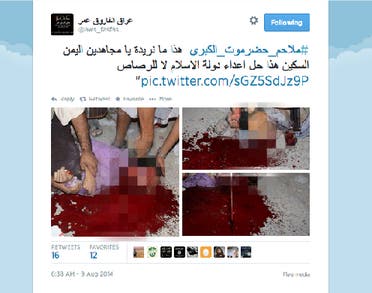 "That's the kind of question that is subject to a lot of moral debate in this country," he said in response to Twitter's contested responsibility towards addressing such content.
Platforms such as Twitter and Facebook can be seen as a double-edged sword.

As ISIS continues to make advancements on the ground, this will "definitely affect their online presence and enlarge their audience" Najjar told Al Arabiya News.

Although ISIS has more access to people today as opposed to organizations operating twenty years ago, social media "increases their [ISIS] vulnerability, making them subject to surveillance and facilitate uncovering more information about their members and perhaps operations," Najjar explained.

Mack does not believe ISIS' use of social media increases security threats posed by the group.

"Probably, it causes more people to align against them out of revulsion and disgust," he said in a phone interview with Al Arabiya News.

"It is important that the media does not include all religious groups who support violence in the same category," Najjar said in an email.

"Media portrayals of these groups still have a greater influence as to how these groups are publicly understood...though one cannot deny that the intense presence of all of these groups on social media will definitely amplify their perceived significance and presence," she explained.