Saudi religious police malpractices mocked on social media
The hash tag has sparked more than 120 thousand tweets in which people show what a 'religious photo' means to them
Social media users have taken to Twitter to mock the malpractices of Saudi Arabia's religious police, using the hashtag "share a religious photo from your mobile phone."
The hashtag has sparked more than 120,000 tweets in which people posted what a 'religious photo' means to them. The response has largely targeted the Committee for the Promotion of Virtue and the Prevention of Vice, the kingdom's conservative religious police.
One user, whose name translates into 'Mazen, a half-disciplined citizen,' tweeted a photo of a car carrying the Committee's logo parked in a handicapped lot, which has been re-tweeted more than 170 times.
Another user, @AliRashid25, tweeted a caricature of a man, dressed in attire similar to that worn by members of the religious police, reading a book titled 'Islamic tolerance,' upside down.
The trend has also reached Facebook as a photo captioned "Reckless and irresponsible. A Saudi envoy to the U.S. is going around shops telling them to close during prayer times."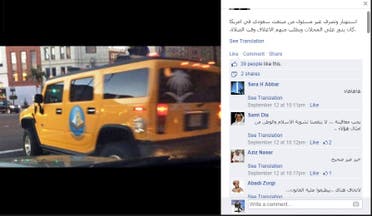 This is not the first time Saudi Arabia's religious police solicit the attention of social media users. Following one Committee member's assault on a British citizen last month, there was an influx of tweets mocking the authority's apparent ability to "fly."