41 percent of Saudis have Twitter accounts: study
Speaker Abdullah Al-Misnad said a total of 8 million Saudis have a Twitter account and they send a million tweets every 24 hours
Around 41 percent of Saudis have a Twitter account, according to statistics presented at a forum on tweeting trends.
Business Insider revealed the figures at the 3rd Saudi Tweeters Forum at the Ritz Carlton Hotel in Riyadh on Sunday evening that was organized for the third time by the Misk Charity Organization under the Prince Muhammad Bin Salman Charity Foundation, Al-Watan reported.
The forum discussed issues of privacy protection and information sharing to raise public awareness of the responsibility associated with sending a tweet.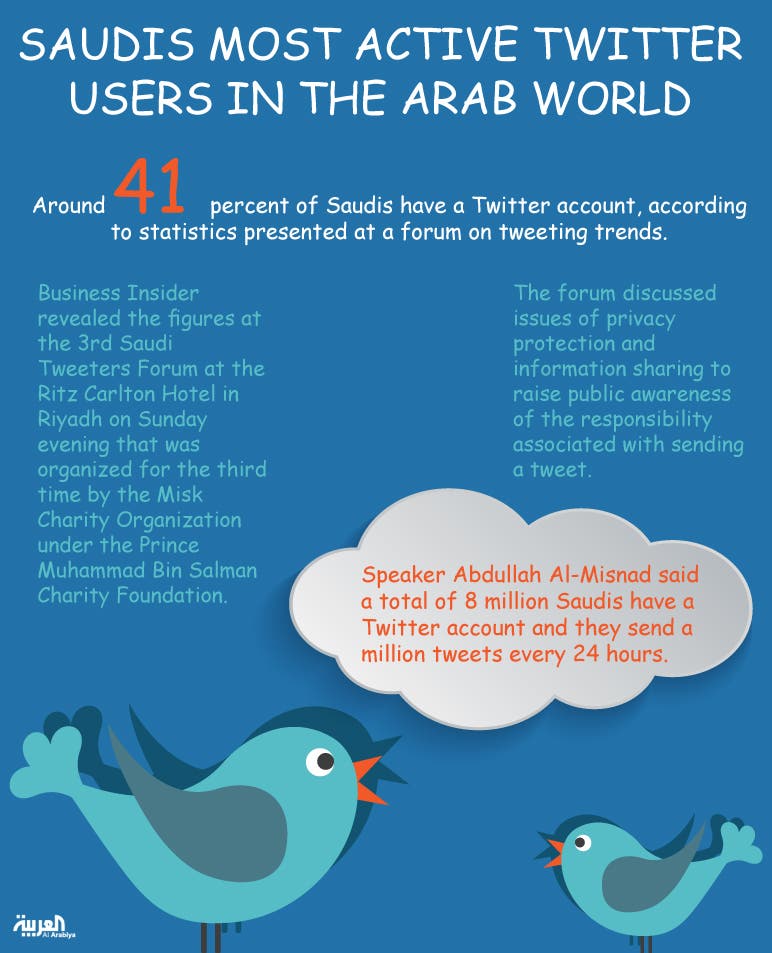 Speaker Abdullah Al-Misnad said a total of 8 million Saudis have a Twitter account and they send a million tweets every 24 hours.
He said: "The Kingdom has surpassed countries with higher populations such as the Philippines and Indonesia.
"I think what draws so many Saudis to Twitter is that it unifies the people.
"There is no difference or discrimination between one Twitter account and another."
Amani Al-Shalaan, a speaker on volunteering through Twitter, said Saudi tweeters respond quickly and interact in record speed with volunteer opportunities offered through Twitter.
Mutrada Al-Yousef, a speaker on job seeking through Twitter, said he used to search for jobs when he was a university student and decided to post his findings on the social network to help job seekers in the society.
Abdulmajeed Al-Otaibi, a tweeter, said he started an account to post health tips and recommendations on Twitter.
Internet security expert Yasser Al-Osaifir said Twitter carries the danger of untruthful rumors being spread about people.
He said: "The negatives of Twitter should not prevent us from embracing it. We can tackle these untruthful tweets by using specific software. If we want to face the ramifications of technology, we need to do so through further advancements in technology and not by shying away from technology and its findings."
Communication and Information Technology Commission representative Mohammad Al-Ghamdi said there are strict laws against those threatening national security, spread lies and bully people.
This article was first published in the Saudi Gazette on Tuesday, March 10, 2015.