Arab social media leaders honored at Dubai summit
Thirty-seven Arab individuals and institutions received the Arab Social Media Influencers Award from Dubai's ruler Sheikh Mohammed bin Rashid al-Maktoum
Dubai has honoured the Arab world's most positive contributors in social media, in the first event of its kind in the Middle East and North Africa.
Thirty-seven Arab individuals and institutions received the Arab Social Media Influencers Award from Dubai's ruler Sheikh Mohammed bin Rashid al-Maktoum.
The award ceremony was part of the two-day Arab Social Media Influencers Summit (ASMIS), which began Tuesday in Dubai and gathered up to 1,500 social media experts from the Arab world and beyond.
ASMIS provides a platform for innovative ideas to evolve, and offers means by which social media channels can transform from hobby and passive use to an integrated system that engages influencers, experts and funding sources, said Sheikh Mohammed, adding that further development is expected in the coming years.
"The world is moving at a very fast pace, and technology is evolving dramatically. We all remember how the traditional media emerged modestly but it quickly gained momentum, driven by technology to become a force that impacted governments, changing the course of their work. It transformed the world into a small village," he said.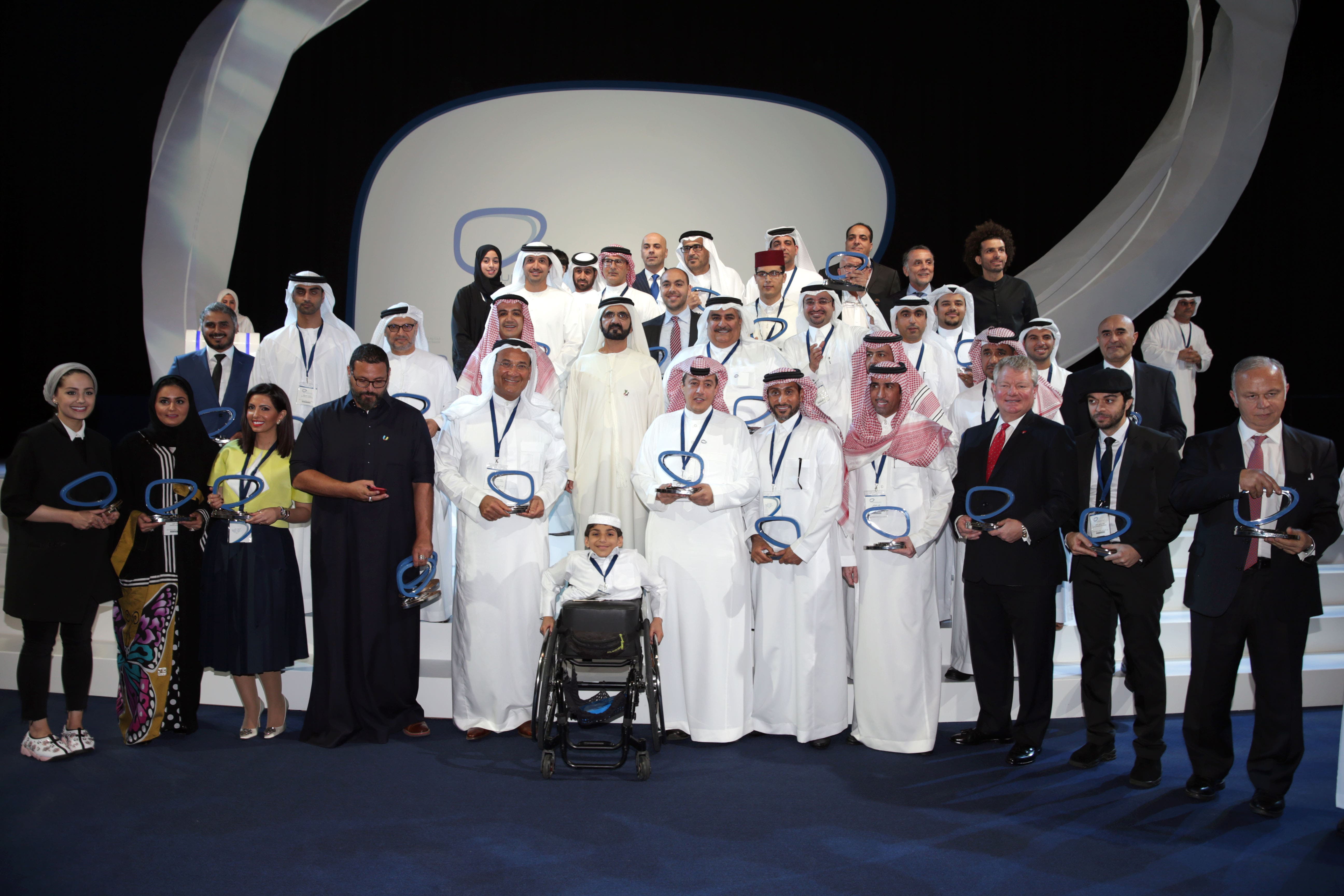 "We are witnessing today new horizons for a new media, and we must combine our efforts and work together to develop the frameworks and legislation to ensure the best use of social media platforms, which do not need the support of broadcast or print houses or large equipment.
"The significance of these channels lies in their ability to reach out easily to all members of society through personal devices. It is our duty to help our young people and future generations by building a knowledge platform to protect them from any destructive and negative thoughts that affect their full potential and create constructive paths for Arab societies."
Sheikh Mohammed told the award-winners: "You are the pride of the Arab nation, because you sensed the needs of your community and you searched for the optimal usage of social media platforms to fulfil your noble purposes.
"We are proud of you, and this recognition you won today is a tribute for the Arab people, who do get deterred by challenges but look through them for prospects of excellence, achievement and innovation."
Sports
Sami al-Jaber, renowned Saudi football coach and former manager of Al-Hilal football club, was awarded for being the most "influential sports personality" on social media.
More than 2.6 million people follow his posts about sports news, especially football, and Al-Hilal on Twitter.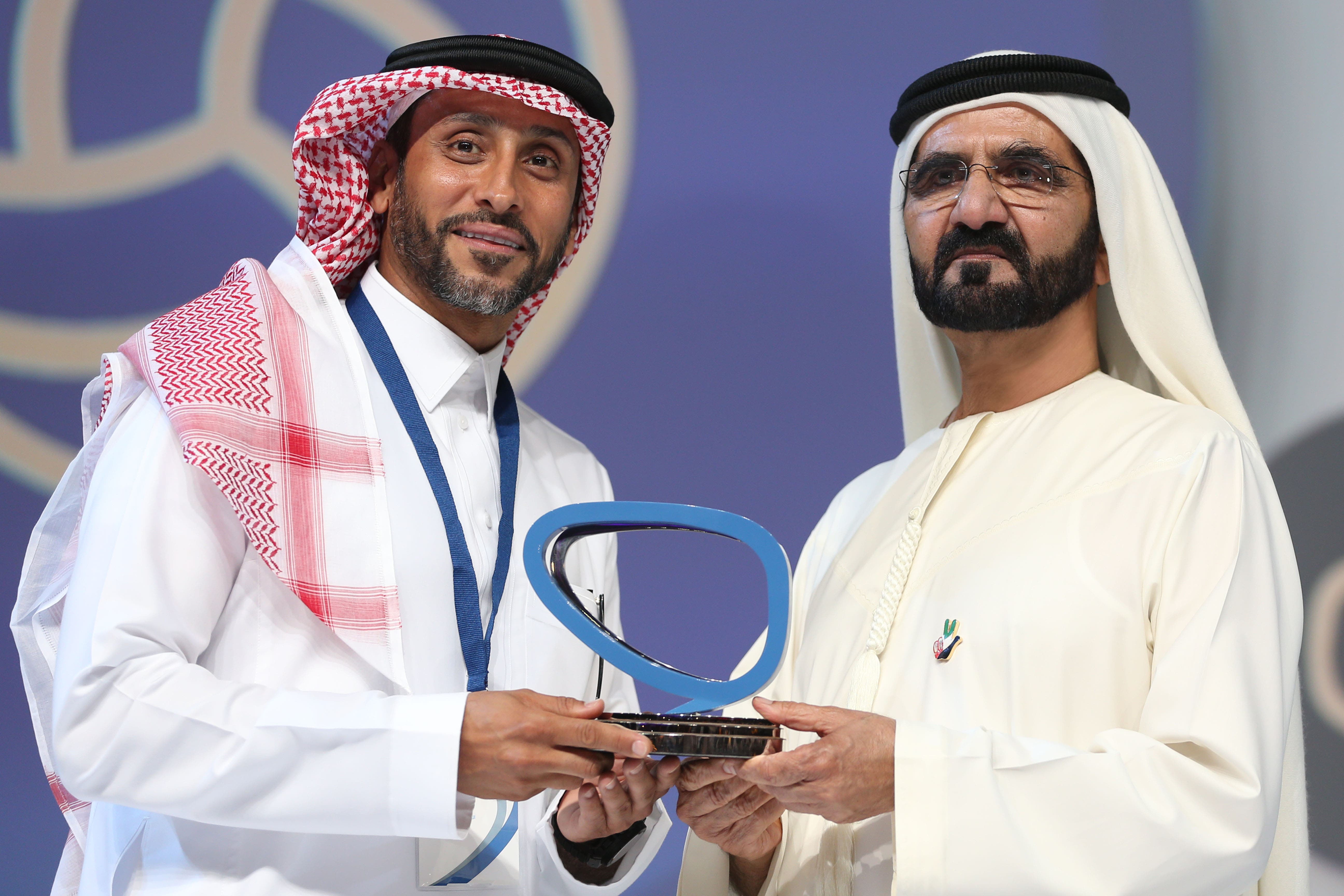 Jaber told Al Arabiya News: "The young generation in the region is highly influenced by sports and football stars. This is why [athletes] need to have a bigger role in society.
My message is that sports isn't just sports. You need to participate in serving the community, in serving young children, and in delivering the right message about social media.
"We need more than one channel to communicate with the youth, but I think social media networks such as Twitter, Facebook and Instagram are the fastest way to understand the youth as well as help develop their thinking."
Youth
The winner of the youth category, 12-year-old Ghanem al-Muftah from Qatar, told Al Arabiya News that his mission is to spread "love, peace, positivity and optimism" through social media.
"I'm very happy and honored, and I'll continue and never give up," Muftah said. "I want to reach out to the whole world."
He boasts up to 640,000 followers on Instagram. He created the Ghanem the Winner Association for Wheelchairs, is author of a book, and is the youngest goodwill ambassador for the Qatar-based NGO Reach Out to Asia (Rota).
Fashion
Ascia and Ahmad (we need their full names), the creators of one of the Arab world's most popular fashion blogs, "Hybrids," also received an award.
Being among the first Arab women to begin fashion blogging, Ascia said she received negative reactions at first.
"It was a little difficult in the beginning. I think the concept was a little strange to have an Arab woman who isn't afraid to put herself on the internet and put herself out there," she said. "But there has been a big change now."
Ascia, who has 1.1 million followers on Instagram, added: "We have such a great market in the Middle East. We have great buying power. We really appreciate beauty and fashion, and women here are really focused on their appearance as a form of empowerment... I'm amongst women who really know what they want."
Nominations from 22 countries were submitted to the organizing committee of the summit, according to a press release. The summit will continue until March 18.