Can social media create revolutions? Top researcher Christakis says 'No'
Dr. Nicholas Christakis spoke at the Arab Social Media Influencers Forum in Dubai
Social media is a "vehicle for disseminating information," not "for changing people's behavior", said a leading U.S. social networks and biosocial science researcher Tuesday at the Arab Social Media Influencers Forum in Dubai.
Speaking at the session "The Hidden Power of Social Networks," which was moderated by Al Arabiya News Editor-in-Chief Faisal J. Abbas, Dr. Nicholas Christakis refuted the theory that social media could create revolutions – a theory often circulating the media and academic circles to explain the outbreak of uprisings in the Arab world in 2011.
"Technology has changed many things. But there are some things that technology has not changed at all, and that's the human mind," said Christakis, who is a Sol Goldman Family Professor of Social and Natural Science at Yale University and co-author of Connected: The Surprising Power of Our Social Networks and How They Shape Our Lives.
"People's desire to affect each other and be affected by each other, this idea of social influence hasn't changed," he added.
"People have always wanted to show off, and people were always interested in gossiping, and people were always interested in what other people were doing."
"I think one of the reasons why social media is so powerful is that it taps into the very primitive desires that we have," he continued.
"Our humanity is not changing. There are deep and fundamental aspects of us as human beings that don't change over historical time periods," he said.
Social Networks
Giving an example of an experiment he made, Christakis told the audience that social networks tens of thousands years ago looked exactly like that of the modern day.
"Our capacity and interest in human friendship and our responsiveness to social influence, I would argue, is the same as it ever was."
What social media was able to do is to magnify and facilitate those social needs, he said.
"It used to be the case that people could band together to do things, but now the Internet facilitates this banding together on a grand scale.
"It abets cooperation in specific ways. It's like human beings can now look like flocks of birds changing direction or schools of fish changing direction," he continued.
Answering a question on whether connectivity would become a primitive human need in the future, the researcher said: "Just because Facebook has been invented doesn't mean that people now have ten times the number of spouses. There was a distribution of the number of spouses that people had. Most people have no spouse or one spouse."
"There is something fundamental about the way human beings interact that constraints us, and that doesn't change with technology. So I don't think that these types of social media will become as fundamental as food, water and so forth," he continued.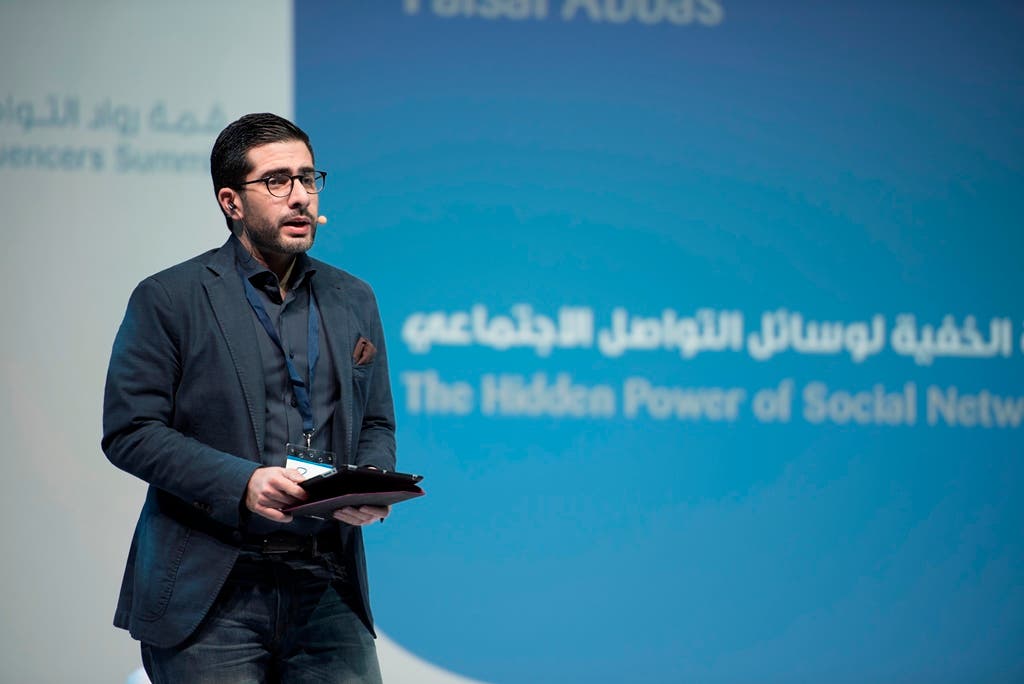 One of the reasons humans create social networks is that they function like a "social magnifying glass," said Christakis.
"One of the functions of networks is to magnify whatever they are ceded with. A network will magnify Ebola; a network will magnify information; a network will magnify wealth; a network will magnify kindness and emotions, or violence."
"You can have an environment like a bar where there is no violence. And all the sudden one person punches another, and the next thing you know is everyone is in the fight. The network has magnified the initial punch. But if that punch hadn't happened, there wouldn't have necessarily been any violence," he added.
Revolutions
But some members of the audience expressed opposing views on Twitter, arguing that social media did cause revolutions and that there are papers and studies that proved that.
In a follow-up interview with Al Arabiya News, Christakis refuted this popular theory: "I think what happened in the Arab Spring, in Egypt for example, was not that your friends were saying 'let's go to the barricades, let's be revolutionaries' and you, who didn't want to go to the barricades, suddenly said 'oh my friends are going, I am going too," Christakis told Al Arabiya News following the session.
"I think what happened is you wanted to go to the barricades but you didn't know where to go and were afraid because you thought you would be by yourself. Now you hear that other people are going and you know where to go so you go," he continued.
"So what's happened is that it's not revolutionary zeal that spreads from person to person. It is information that spreads from person to person, which then allows you to act on the behavioral desire you had to begin with."
"Before, if you had a thought that the government was evil, and you were all by yourself, and you were surrounded by people who are saying 'what are you talking about, there is nothing wrong with the government,' your sentiment wouldn't find a full expression," he explained.
"If you had the tools of having other individuals who shared your beliefs you can reinforce each other. So now a belief that previously would have been extinguished now gets heightened. But you had that belief," he said.
Organized by UAE Vice President, Prime Minister and Ruler of Dubai Sheikh Mohammed bin Rashid al-Maktoum, the two-day Arab Social Media Influencers Summit (ASMIS) kicked off on March 17, 2015 and brought together more than 1,500 leading regional and international social media personalities. As many as 38 prominent social media influencers such as Brandon Stanton, the founder of the "Humans of New York" blog.