Sarah Palin creates Facebook posters to congratulate Netanyahu
The two images were sandwiched between a photo of former U.S. President Ronald Reagan and her daughter Piper Palin
Former republican vice presidential nominee Sarah Palin congratulated Israeli Prime Minister Benjamin Netanyahu on his re-election by putting posters showing her support up on her Facebook page.
"Congratulations, Prime Minister Netanyahu," the 51-year-old former Alaska governor and sometime reality TV personality said on the poster. "Thank you to the good people of Israel for supporting a leader who will stand up and fight for all the free world while other leaders sit down. The Heartland of America will sleep better knowing Bibi remains the voice of reason and strength in the beautiful nation of Israel; for when Israel is safe, we are safe."
"When Israel is safe, we are safe," another poster proclaimed.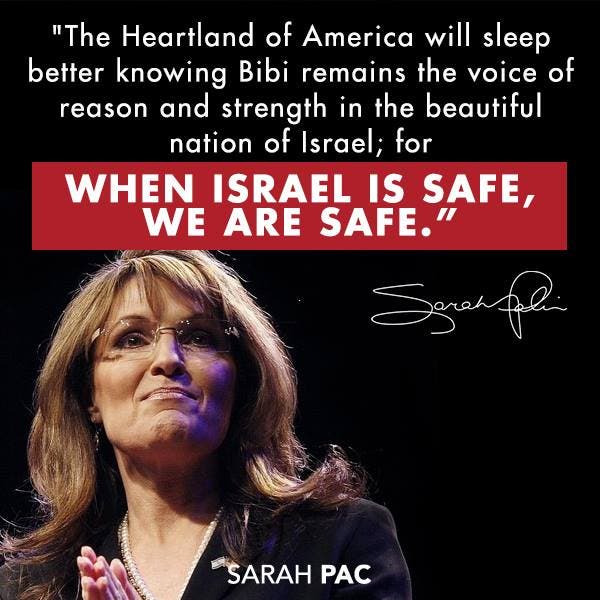 The two images were sandwiched between a photo of former U.S. President Ronald Reagan and her daughter Piper Palin.
Bristol, another daughter of Palin famous her pregnancy out of wedlock during the time of her mother's 2008 vice-presidential bid, recently announced her engagement to Medal of Honor winner Dakota Meyer.
Palin has a over four-million-strong fan following on Facebook.