Photo of another Syrian girl 'surrendering' to camera released
A Red Cross worker has pictured another Syrian girl (pictured) who became scared and raised her arms to surrender
After the heartbreaking picture of a four-year-old Syrian girl "surrendering" to a photographer went viral this week, a Red Cross worker has shared an image of another child putting her hands up because she thought camera was gun.
The second girl's image was taken in a Jordanian refugee camp, as she cried when she mistook the aid worker's camera for a weapon.
Photographer Rene Schulthoff had taken the picture in November last year.
According to the Daily Mail, he did not realize "how terrified she was until he was editing the photographs."
He told the newspaper: "I had tears in my eyes when I saw her like that on my computer. I was shocked by her reaction, the fear and seeing her crying... It is a tragedy for this young generation.
"Instead of playing with friends, they grow up in permanent fear under extremely poor conditions missing almost everything. A childhood of pain tears and sadness.
"They miss a peaceful happy childhood, kindergartens, education and what they learn currently is that life is pure horror."
The girl is one of 17,000 living in Azraq camp according to the United Nations Refugee Agency - having fled the four-year-long Syrian war.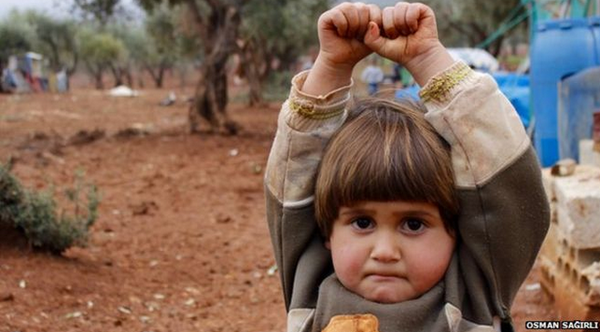 Earlier this week, the first image of a Syrian refugee girl went viral on social media after surrendering to Turkish cameraman Osman Sagirli.
Sagirli, the photojournalist who took the picture, told the BBC that the image was not staged.
"I was using a telephoto lens, and she thought it was a weapon," he said. "I realized she was terrified after I took it, and looked at the picture, because she bit her lips and raised her hands. Normally kids run away, hide their faces or smile when they see a camera."
Sagirli said the photo was taken at Atmeh refugee camp in Syria in December last year. It was first published in the Türkiye newspaper in January, but has been widely spread on social media recently.