Pan-Arab newspaper al-Hayat hacked by Yemen 'Cyber Army'
The hackers displayed a photo of Hezbollah Secretary General Hassan Nasrallah on a black background
The website of pan-Arab daily newspaper al-Hayat was hacked on Monday evening and disrupted until Tuesday morning.
The hackers called themselves the "Yemen Cyber Army" in a message displayed on the website's page after it was hacked said.
The site's admin then removed the displayed message and posted:"The website is under maintenance due to hacking attempts."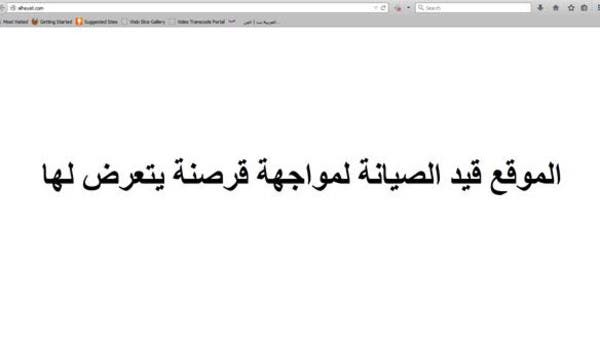 According to media reports, the hackers displayed a photo of Hezbollah Secretary General Hassan Nasrallah on a black background and wrote in Arabic: "We have few words to say to you, prepare your bomb shelters." The slogan of the Houthi movement also appeared on the picture.
The expression "prepare your bomb shelters" is used by Hezbollah supporters and was used as a slogan launched by them earlier this year.
Earlier this week, Iran's Arabic-language state TV network Al Alam said on Sunday its Twitter account had been hacked and a false report was posted that an Iran-allied Houthi rebel leader in Yemen had died.
And last week, Houthi militias blocked access to all websites of Al Arabiya News Channel in Yemen.
Web surfers trying to log on Al Arabiya's Arabic portal saw a message explaining that access had been denied.