'You're a Donkey,' Lindsey Lohan mistakenly tells fans in Arabic
The actress and model wanted to spread a positive message by telling her followers "you're beautiful"
Lindsay Lohan has been left red faced after posting an image on Instagram in Arabic to her 3.5 million followers.
The actress and model wanted to spread a positive message by telling her followers "you're beautiful".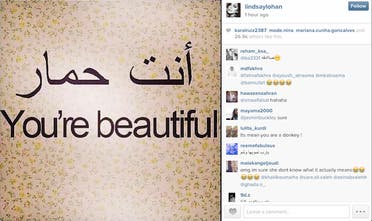 Instead, she ended up saying what's considered in Arabic as an insult. It actually read "you're a donkey," a term which can be pronounced in Arabic as "Enta Homaar."
She has since deleted the meme.
It's unclear whether LiLo was tricked into believing "you're a donkey" means "you're beautiful," or it was an innocent case of mistranslation.
Her followers certainly took advantage of the apparent confusion, reposting the meme on other platforms. Social media was abuzz with the predictable gags.