Prince Alwaleed's 'Bentleys for pilots' tweet creates decisive media storm
News of the tweet - and the response from social media users was soon picked up by Western media outlets
Media outlets worldwide reported on a tweet earlier this week by a prominent Saudi prince who seemed to promise a luxury Bentley car to each of Saudi fighter pilots who took part in the recent coalition airstrikes in Yemen.
"I congratulate our wise leaders on the victory of Operation Decisive Storm and the beginning of Operation Restoring Hope," Prince Alwaleed bin Talal appeared to tweet Tuesday to his three million followers. "…And in recognition of the 100 participating Saudi pilots I'm honored to offer them 100 Bentley cars," the post added.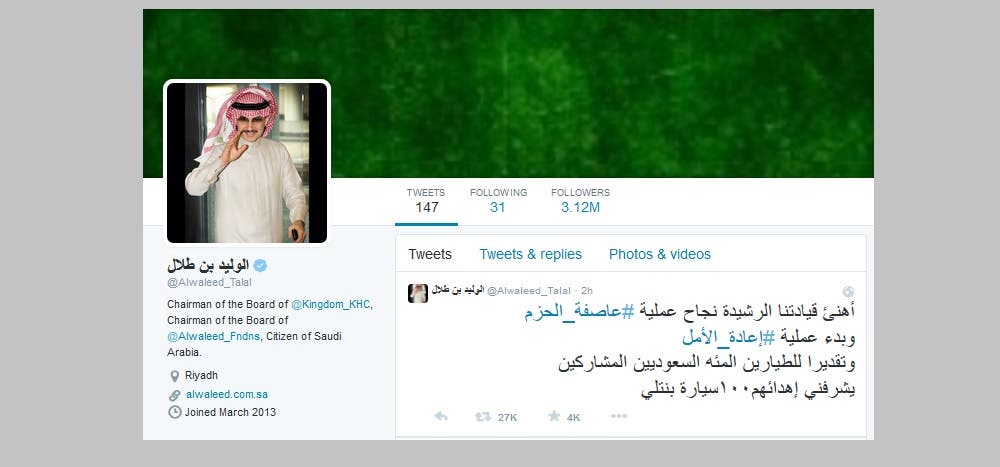 The tweet was reportedly later deleted - after a reaction from social users that ranged from admiration to harsh criticism.
Saudi intellectual and renowned author, Turki al-Hamad, criticized Prince Alwaleed's offer, saying "don't treat our armed forces like a football team," - hinting at a royal tradition among some princes to motivate football players by offering them fancy cars should they score or if the national team wins an important competition.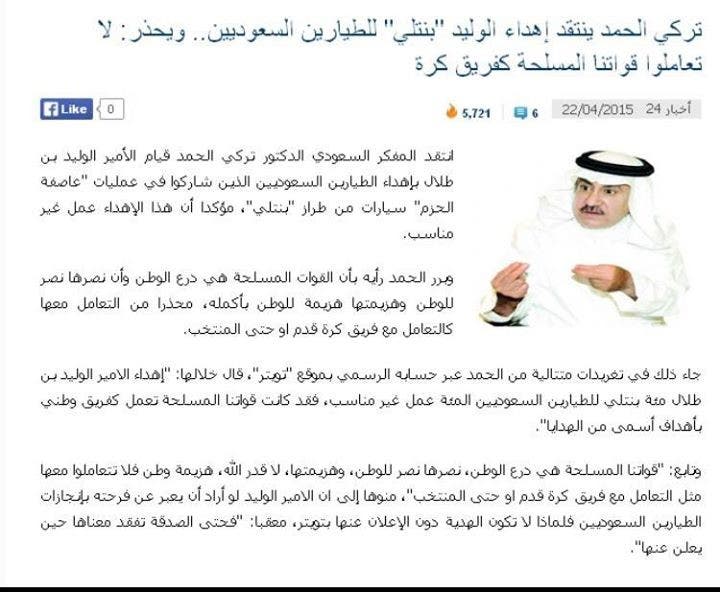 Saudi news portal Elaph and UAE-based daily Emarat al-Youm also reported on the tweet.
News of the tweet and the response from social media users was soon picked up by Western media outlets, including the U.S.-based website International Business Times, UK paper the Daily Mail, and BBC Trending, which mines social media for news stories.
BBC Trending attached a screen grab of one tweet, which suggested that Prince Alwaleed has unlimited money at his disposal.

However, media outlets did not contact Prince Alwaleed or question whether or not his account may have been hacked – or if true, why he deleted it.
If true, it is unknown whether his generous offer is still on.
Prince Alwaleed, a famed tycoon who according to U.S.-based business magazine Forbes is the richest Saudi and the 34th richest man in the world, is himself known to have offered fancy cars to athletes and entertainers as a token of appreciation before.
Last year, he gifted 25 luxury cars to members of a Saudi soccer club after their victory in a local competition, the Dubai-based weekly Arabian Business reported.