'Killing Arabs' message sparks outrage against promoted tweets
Online users were angered by a tweet that read: "My fellow Jews the time to start killing Arabs is NOW"
A recent incident in which a hacked Twitter account was used to spread a hate message about "killing Arabs" this week has sparked concern over the use of hate language in promoted tweets.

The racist message was posted using the personal account of Melbourne lawyer Josh Bornsteinths, reportedly by a U.S.-based a supremacist group since April.
The group used Bornstein's account to publish a tweet that read: "My fellow Jews the time to start killing Arabs is NOW."
While the statements were not attributed to the lawyer, the racist comments sparked further outrage online when it was seen that the tweet had been promoted by Twitter.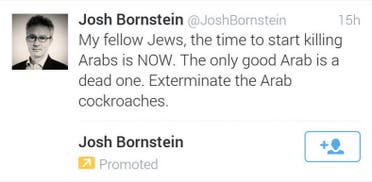 Online users wondered if Twitter was doing enough to effectively prevent hate speech in its promoted content.
Some argued that Twitter had been paid to promote the anti-Arab hate message.
.@Twitter why are you allowing hate speech in promoted tweets? RT JoshBornstein: My fellow Jews, the time to start killing Arabs is NOW.

— Sarah Stokely (@stokely) May 7, 2015
UAE-based Mass Communication Professor Abeer Al-Najjar said it was part of companies' "social responsibility" to introduce solutions to avoid having "unnecessary content being promoted and paid for."
"When businesses are paid for any service to promote certain content they have to have a monitoring system that that could at least guarantee that no harm is being done through these promoted messages," she told Al Arabiya News.
Al-Najjar added that such steps did not necessarily favor censorship, but ensured promoted tweets were dealt with responsibly.
"The responsibility of companies is to develop technology that not only increases their profit but also increases their ability to contain any dangerous and risks that could happen as a byproduct of these services."
According to the company's own guidelines, Twitter's ad policies already prohibit "the promotion of hate content, sensitive topics, and violence globally."
The company's policy does not tolerate "hate speech or advocacy against an individual, organization or protected group based on race…"
The San Francisco-based micro-blogging site also allows users to report a promoted tweet if they regard it as inappropriate.
But questions on whether the website plans to introduce new measures to prevent hate speech in promoted tweets remain unclear.
"From what we can see right now, Twitter does not seem to have a system in place to monitor and clean these messages and are reaching way far more individuals than usual messages tweeted from accounts without the promotional service," Al-Najjar said.
Al Arabiya News contacted Twitter's press firm but has yet to receive comments.