Feathery friends: Putin and Erdogan bird encounters go viral
Russian TV channel thinks flock of birds looks like Putin and in Turkey, a bird attempts to perch on Erdogan's head
It seems that Putin and Erdogan have one thing in comon this week.
A Russian TV channel claimed that Russia's President Vladimir Putin's face could be seen in the outlines of a flock of birds flying above New York, The Washington Post reported.
The Russian TV channel, Zvezda, cited a YouTube video called "Strange behavior of birds (New York)" that showed a flock of birds, allegedly outlining what they believe to be Putin's face.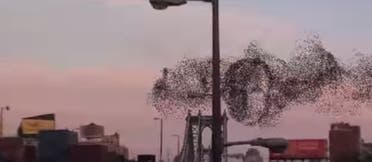 Zvezda, which according to The Washington Post is owned by the Russian Defense Ministry and known for its patriotic views, generated attention to the video from the Russian audience, helping the video gain over a million views within a week.
The clip, which was posted by Sheryl Gilbert last week, also received hundreds of comments in Russian.
"It's a warning to the U.S. that they shouldn't start a war with Russia," one user wrote, as cited by The Washington Post.
"Look up in the sky! It's a Bird! It's a plane! No It's a Super Putin!" another commented.
But some think the video is fake - Zvezda also stated that it cannot guarantee the authenticity of the video.
Turkish President Recep Tayyip Erdogan also had a run in with birds last week.
Erdogan was in the town of Rize's Guneysu for the official opening of a mosque, when a bird tried to perch on his head as he was releasing a number of doves, pheasants and other birds, Hurriyet Daily News reported.