Anger after UK party member blames refugee parents for Syrian boy's death
The tweet caused a storm of outrage, with some users claiming that his view was "abhorrent" and "grotesque"
A UK parliamentary candidate for an anti-immigration party stirred outrage when he wrote on Twitter that the drowned Syrian refugee boy who made headlines around the world had "died because his parents were greedy for the good life in Europe."
Peter Bucklitsch, a member and former candidate with the UK Independence Party (UKIP), said that "the little Syrian boy was well-clothed and well fed. He died because his parents were greedy for the good life in Europe."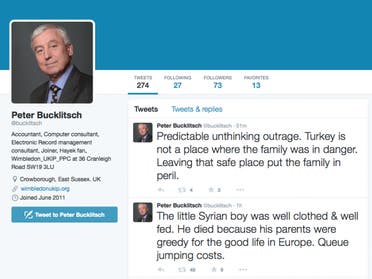 He added: "Queue jumping costs," in a reference to unofficial attempts by refugees to reach Europe's shores.
The tweet caused a storm of outrage, with some users claiming that his view was "abhorrent" and "grotesque."
Don't know how anyone could look at that picture of the 3 year old syrian boy who drowned trying to escape and say they support UKIP

— annabel❁ (@annabelblackx) September 3, 2015
Bucklitsch subsequently deleted the tweet, and then closed his Twitter account. He then issued an apology, telling the BBC he was sorry "for the evident distress" caused, telling the channel that "to lash out at the parents who were trying to do their best was not, on reflection, the best answer."
UKIP said it was launching an investigation into Bucklitcsh, and a spokeswoman said his tweet did not represent the party's views. Winston McKenzie, a former UKIP candidate, called Buckslitsch a "nutter" who would be "best ignored".
The haunting images of 3-year-old Aylan Kurdi washed up on a Turkish beach focused the world's attention on the wave of migration fueled by war and deprivation.
Sparking debate
The pictures, released earlier this week, show the body of the lifeless toddler in a red T-shirt, blue pants and tiny shoes lying face down on the beach after a failed attempt to sail with his family to the Greek island of Kos. The image has sparked debate on how Europe's refugee crisis is being dealt with.
UKIP's leader Nigel Farage said he was appalled by the photographs of a dead three-year Syrian boy washed up on a beach in Turkey and said there was a risk of more deaths because Europe has said it plans to accept more refugees.
"The question we need to ask ourselves is how do we prevent more appalling photographs like that?" Farage said.
(With the Associated Press)