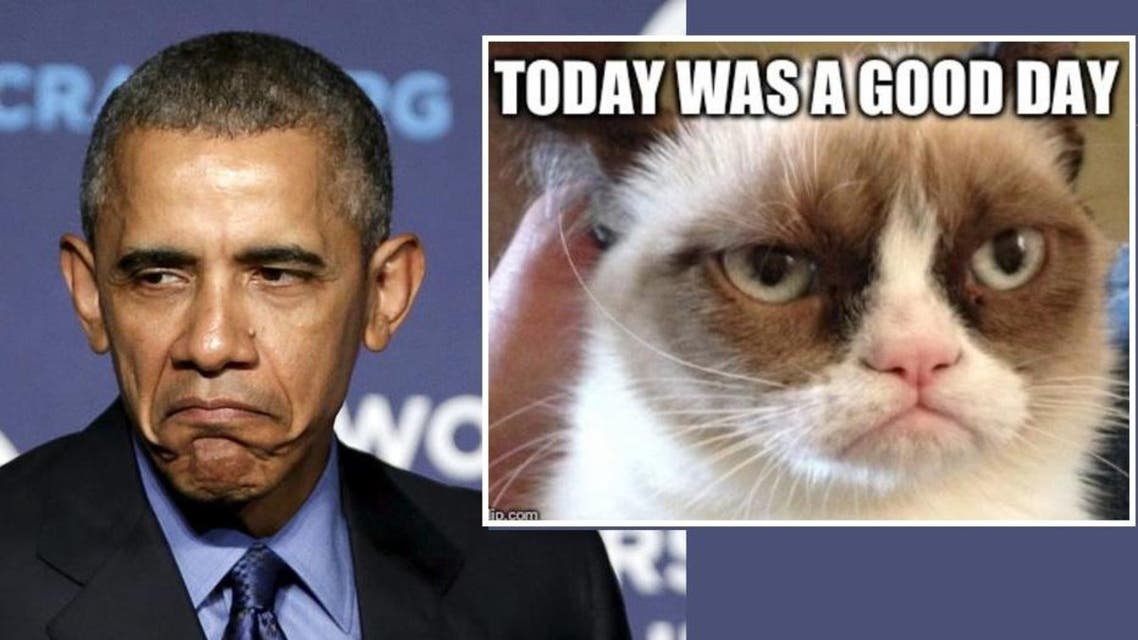 Republicans? They're like the Grumpy Cat meme, Obama says
"I mean, they are gloomy. They're like Grumpy Cat."
The ubiquitous internet meme "Grumpy Cat" took over the internet when it gained fame in 2012, but on Friday it found a new platform: President Barack Obama, who mimicked it to describe the current state of the Republican Party.
In a speech at the Democratic National Committee's Women's Leadership Forum, Obama ran through a litany of things his administration has accomplished, listing lowering the unemployment rate, increasing access to healthcare and reducing dependence on foreign oil among them.
In light of all that has changed since the peak of recession in 2009, he mocked Republican politicians for being "so down on America."
"Have you noticed that?" Obama asked the crowd of about 500 cheering women. "I mean, they are gloomy. They're like Grumpy Cat."
Then he turned the corners of his mouth down into a frown, emulating the famous feline.
"Everything is terrible, according to them," he said. "We're doomed!"
The White House has said Obama will invest a lot of time campaigning for the Democratic candidate in the November 2016 election. In a preview of his stump speech for that race, he touted recent accomplishments and said Democrats could win in the race to replace him with an optimistic campaign based on his record in office.
"Democrats, we are at our best," he said, "and America is at its best when we assume the best in others instead of the bad."
Obama repeated his stance that he will support "whoever the nominee is" for the Democratic Party, without endorsing any particular candidate.
"When you watched the debate between the Democrats, it was logical and civil, and people didn't agree with everything, but they weren't just saying crazy stuff," he said.
"It made me proud, because it said that we've got a party that's inclusive and wants everybody to join and get involved, and showed that we can disagree without being disagreeable."