Michelle Obama's Qatar visit praised by Arabs, slammed by U.S. media
Politico took to case the fact that Qatar Foundation's mosque hosted an anti-Jewish controversial preacher only days earlier
Despite mostly positive press coverage of U.S. First Lady Michelle Obama's recent visit to Qatar, some media outlets appeared to have an agenda when they slammed her trip to the small Gulf state, in addition to the charitable works conducted by the Qatar Foundation.
During her visit to the capital Doha, the U.S. first lady spoke at an education summit at the Qatar Foundation to advocate her "Let Girls Learn" initiative, a program which aims for providing learning opportunities for around 62 million girls worldwide.
But some media publications ignored the positive aspects of her visit. U.S. current affairs site Politico, which relied on unconfirmed translations from infamous pro-Israeli media monitor MEMRI, attacked the Gulf state's policies. According to Politico, Michelle Obama had shared the same Qatar Foundation platform with a "notoriously anti-Semitic sheikh who inveighed against 'Zionist aggressors.'"
Politico took to case the fact that Qatar Foundation's mosque, situated on its multi-university campus area, hosted the controversial preacher who only days earlier had said in a sermon: "To count them [Jews] in number and kill them completely, do not spare a [single] one of them."
Politico also mentioned that this same preacher has courted controversy, after having wished in a 2013 speech: "if only Hitler had finished them [the Jews] off."
In response to Politico's article, White House spokesman Eric Schultz wrote an email questioning whether the site was asking "for a response to a statement made about speakers who the First Lady has never referenced, has never met, and nor will be participating in the First Lady's event?"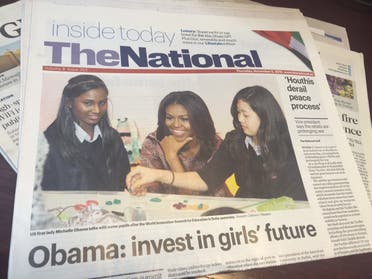 However, despite several negative reports, the first lady's visit and initiative was well-received by many local, regional and international media outlets. During her speech, Obama called for an end to "outdated laws and traditions" preventing millions of girls around the world from completing their education, according to the AFP news agency.
"If we truly want to get girls into our classrooms then we need to have an honest conversation about how we view and treat women in our societies and this conversation needs to happen in every country on this planet, including my own," she said.
Although the first lady's plane was grounded on Wednesday night due to bad weather, she is expected to continue on her brief Middle East tour, where she will visit Jordan next.