As Aleppo bleeds, social media users switch to red pictures
'Aleppo is burning' has been trending on the internet, calling for the escalated violence in the Syrian city to stop
As the violence in Syria's Aleppo escalates, a social media campaign calling for the aggression to stop has gained momentum.
The campaign, called 'Aleppo is burning,' first began when social media users began to post pictures of the color red on their accounts in a bid to raise awareness.
The ongoing fighting in Syria's second largest city, which has killed almost 250 and injured many more, has been described by the UN as "monstrous disregard for civilian lives by all parties to the conflict."
In solidarity with the city, other campaigns have created, including a petition that pleas for Google to temporarily change the color of its logo to red.
The petition that was created on Saturday called for 10,000 signatures, but has already received over 11,000.
In addition, worldwide demonstrations have been organized to protest the Syrian regime's airstrikes on the city.
Nearly 30 airstrikes hit rebel-held areas of Syria's northern city of Aleppo on Saturday, marking nine straight days of bombardment.
However, a temporary "regime of calm" announced by the Syrian army late on Friday appeared to have taken hold in two other areas shattered by recent fighting, in the northwest coastal province Latakia and outskirts of the capital Damascus.
The Syrian government said the "regime of calm" - from which a military source said Aleppo had been exempted - was an attempt to salvage a wider ceasefire deal reached in February.
The February truce, brokered by Washington and Moscow, has all but collapsed in fighting that has intensified, particularly in and around Aleppo as peace talks in Geneva have crumbled.
On Saturday people around the world took to the streets in solidarity with those in Aleppo who have been under fire by the Syrian Regime. Outside the White House protestors were joined briefly by Hollywood actress Rosario Dawson, who waved banners and chanted with the demonstrators before attending the White House dinner.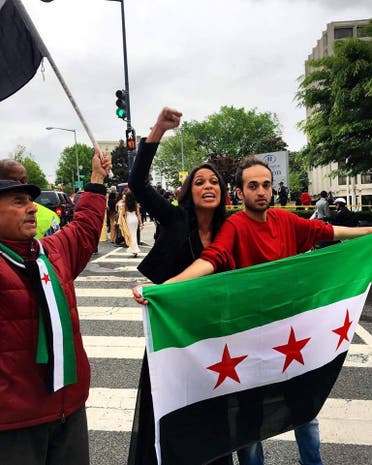 And Abd el Baset Saroot- who has become known as the "Revolutionary Icon" and the former goal keeper of the Syrian national youth football team and of Homs city's local club - led the protest in Istanbul, Turkey.
The sporting star and hero to the rebelion's appearance came as a shock to many as he had disappeared after leaving besieged Homs.