ISIS counters Mosul battle through psychological media warfare
ISIS regained access to these accounts after a large campaign waged by companies providing internet services to ban all extremist accounts
The Iraqi operation to liberate the nation's second largest city, Mosul, from the self-proclaimed Islamic State of Iraq and Syria (ISIS) has coincided with the restoration of dozens of the blocked accounts of ISIS supporters and followers.
ISIS regained access to these accounts after a large campaign waged by companies providing internet services to ban all extremist accounts, ever since the international coalition media war on ISIS began.
Despite all the questions raised regarding the sudden lift of the ban and how they managed to circumvent it and resume their propaganda, ISIS was afraid of a media coup would target them.
A statement was issued on an account affiliated to ISIS saying: "By the way, the Internet and all communication networks in Mosul are down. This is the media battle my brothers."
Another account under the name of "Dragnov of the State" stated: "All the data and clashes reported in Mosul are not accurate. News channels did not know what was going on as their correspondents could only see the booby-traps flames."
Dozens of fake accounts and pages were launched in the framework of the so-called "media battle in Mosul" under the slogan "journalists for the caliphate, journalists everywhere". This campaign aims to strike back the statement against ISIS: "The lies of the media machines trying in vain to spread (rumors) about their victory against the mujahedeen to undermine their faith."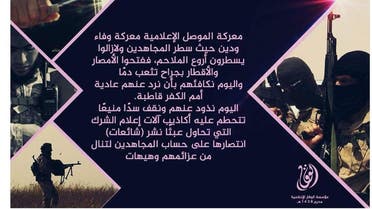 The psychological media war that the organization started more than a day earlier comes within their endeavor to counter what was broadcasted through their bulletins and news reports on Arab and Western news channels, in an attempt to investigate the Liberation battle in Mosul, especially after the reports about the existence of approximately 1,000 foreign correspondents with the US and Iraqi joint forces to cover the military operations.
The menace of the media war led by ISIS comes after several defections and the decreasing number of fighters among their ranks. The media had heavily reported those defections in their reports. ISIS aims at boosting the morale of its fighters on one hand, while promoting videos depicting slaughter operations on the other hand. ISIS also seeks to send messages to the people in Mosul, and implicate a number of residents in videos footage to show their support for the organization."
According to experts, the plan of ISIS showing that the residents of Mosul and the elders of the tribes supporting the organization is considered as a death penalty and an irrevocable step in supporting ISIS. They are threatening people's life by disclosing their photos and revealing their names during the operations in Mosul, in which US and Iraqi joint forces are participating, as well as the popular mobilization.
*This article first appeared on AlArabiya.net