Tunisian startup aims to take the US elections global
Current poll puts Democratic nominee Hillary Clinton in the lead with global voters
A Tunisian tech startup is aiming to take the upcoming US election globally by including a voting poll on their app to gather whether worldwide citizens would lean more toward Democratic nominee Hillary Clinton or Donald Trump.
The Evey app launched a month ago - co-founded by Tunisians Maher Hanafi and Noomen Lahimer - aims to increase audience interactivity with the news and current events around the world.
A highlighted part of the app is the current poll on who should be the next US president.
"We started the US elections vote on the app on Nov. 1 and we've had almost 1,300 votes so far from more than 60 countries. We're currently monitoring which countries leans more toward Clinton or Trump," Hanafi told Al Arabiya English.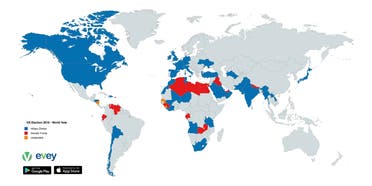 So far, Clinton seems to lead voters from major European countries like France and the United Kingdom, with Trump leading in most Middle Eastern countries except for the GCC.
"We really believe the US elections is not just for US citizens because the next president really has an impact on the whole world. He or she is considered the leader of the free world.
Hanafi told Al Arabiya English that they are currently trying to analyze data of voters polling on their app to see why one countries choose either candidate over the other.
"The results so far are not surprising because it is an ongoing vote. One really surprising country that I wasn't expecting to favor Clinton was Libya with all the stories and events related to her happening," he said.