ISIS militant executes Yemeni colonel, films shooting on head-cam
A suspected ISIS militant shot a Yemen colonel on the street in the port city of Aden, filming the killing with a head-cam
A suspected ISIS militant shot a Yemen colonel on the street in the port city of Aden, filming the killing with a head-cam.
Now the footage of the execution of Colonel Abdul Rahim Aldhalaa surfaced on social media, showing the assignation close to his home.

The security official worked at Aden airport in the directorate of Mansoura.

In the past few months Aden has seen a wave of bombings and shootings targeting officials and security forces.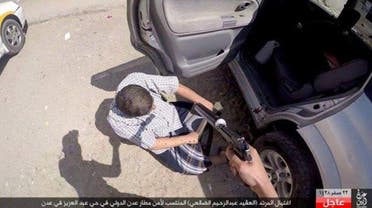 This article is also available in Arabic at AlArabiya.Net.